I can't quite believe it's April. Another month has whizzed past, this year seems to be going past at a gallop and I'm not sure that's OK with me; I want to slow down and really relish my days with all three together this summer, and with the lovely warm sunshine we've had lately it feels rather as if summer might be here already. Or this might of course actually be summer, and we'll spend July in wellies and woolly jumpers. But we can but hope that it's the start of weeks and weeks of living in the garden.
That's pretty much what we've done so far this month; even when the breeze has picked up and it's less than sunny the girls want nothing less than to be out in the garden, preferably with bare feet, and there's a patch of mud underneath the swing that tells of Kitty's efforts to swing herself while Elma boings up and down on the trampoline as if in a desperate effort to get rid of her excess energy before she just about bursts with the need to run about a bit.
We've had our first supper in the garden, scrubbing a winter's worth of creeping green off the tabletop and chasing the spiders out of the umbrella and it's wonderful to be out there again.
And I love that my little trio seem to have inherited an appetite for being outside.
The girls have been outside every morning, usually only just after breakfast, setting up some complicated sort of make believe for the day. They've moved on from playing nursery (which was absolutely hilarious – I got such a lovely insight into Kitty's days) and we've rattled through several iterations of ice cream shops and quite a lot of Frozen, though the latter does tend to end in a 'discussion' of
"I'm Elsa, you're Anna"
"You Anna. I Elsa!"
"No, I'm Elsa!"
"I Elsa!!"
which was firmly ended by H with a most decided "I'M ELSA!" from an upstairs window. I think they were both Anna after that. ("Daddy…. do you wanna build a snowmaaaaaan!")
But one of the things I love the most about the way that they play together is their seeming telepathy. Kitty can talk ten to the dozen and Elma can certainly hold her own (though if it's something she's feeling particularly passionate about it sometimes takes a while to translate) and it's possible that they're hatching all of these plans under the covers at night and just picking up where they left off but I'm sure we'd have heard them.
Instead we'll all be in the lounge just pottering about and Kitty will say "Do you want to play" to Elma and that's that; they're both running an ice cream shop and asking me for my choice of flavour without missing a beat.
There's clearly something that I'm missing and I love that I am missing it; that they have a way to communicate and a relationship that I'm not a part of.
And as for their brother, well he is still very much adored; but it's very very hard not to adore Pip, he is smiley and happy and content and we are all his devoted slaves.
Kitty is his big favourite; he and Elma sort of stare at each other as if not quite sure what to make of each other, but she's asking to hold him more and more and as he gets sturdier and sturdier I'll happily hand him over. Kitty on the other hand will sit next to him at supper, copying him and making silly noises until he giggles, or pull him up off the floor for a big squeezy hug in her lap. Fortunately he doesn't seem to mind being treated like a living breathing teddy bear and we're working on persuading her not to share her crisps with him just yet.
(this is such a spitting image of one of his father's expressions – I love it!)
And even when the noise levels in our house threaten to blow the windows out, or it seems like at least one child has been crying at all moments all day long, at the end of the day when they're all tucked up in bed asleep and I can take a breath and just have a moment to catch my thoughts I look at the three of them and fall even more in love with them all over again and know that it's all worth it; it's worth it to have the three of them and worth it that they're close enough to be true friends as they grow up.
Two little sisters, and their brother too, in April:
And just in case anyone is under the impression that my children are practically perfect in every way, and sit around posing nicely for photos I have to add this one in:
It's a lovely photo of Kitty and Pip but try as I might I could not for the whole wide world persuade Elma to do anything other then pull me faces. And yet I think it might be my favourite photo of the whole bunch!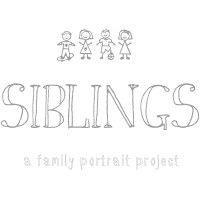 This month I'm sending you on to
Annie
. She lives in such a beautiful part of the country and shows it off perfectly with so many gorgeous photos of her family's adventures in the forest and the coast and I'm really looking forward to seeing what she, Kitty and Ozzy have been up to this month. And now, with many fingers crossed that we've managed to work out the bug in the code and this linky is going to work, it's time for you to join in!