If there is one thing that I am rapidly discovering it's that taking a picture of three children is a bit of a challenge, especially when one of them can't do anything beyond lying there and looking adorable and/or grumpily puzzled and the other two are extremely capable of running away no matter what the bribery and corruption on offer.
I'm glad that so many of my Siblings photos from earlier in the year were more candid shots of the girls in action and that I've captured all the running and jumping and chasing that's the hallmark of their relationship at the moment because until Pip learns to crawl and gets fast enough to keep up with them I'm going to need them to come to him. And stay there.
The first is not a problem; six weeks in and he is still the first person they look for in the morning, the person they run to when we go to collect them from nursery, and the recipient of onslaughts of kisses, gentle cuddles, and a good few cuddly teddies.
The staying still? Well they're one and four and behave exactly like one and four year olds; Mummy's camera isn't exactly riveting, especially when all this picture taking means that both the slide and the scooter have been temporarily abandonned and you could run off and play with them.
I think it's making me realise just how much my natural style is for very candid photography; up until now I've tended just to take the girls somewhere beautiful for a nice backdrop and let them run around and do their thing while I try to capture the special moments between them.
And the fact that this is pushing my photography out of that comfort zone is yet another reason why I've come to love these family milestone pictures so much; you can read all the theory, study all the pictures you like but nothing quite beats actually getting out there and taking some pictures, and I know I'm going to learn so much about composition and lighting more posed portrait shots through consciously trying to get all three of my little ones in the frame on a regular basis. At least I really hope so.  That or please brace yourselves for months photos of my children sat on my bed, and if all else fails, the outtakes are usually pretty funny where small people are concerned.
But it's more than just an excuse to improve my photography, it is, as always, about this little family of mine; watching the novelty value of a baby brother turn into love and with love into friendship.
I have loved capturing the sisterly relationship between my two big girls; the giggles and the laughter and the adventures shared.  That dynamic is still there; if anything I think it's stronger now.  It's precious in the quiet moments, on the days when we aren't trying to go anywhere or do anything in particular, watching them play together, using the laundry baskets as pirate ships or hiding under the dinner table, or whatever Kitty's latest re-enactment of Frozen might be.
It's lovely to see the two of them playing together, and for the most part playing happily, and I'm really looking forward to seeing them start to include Pip in their games as he gets a bit bigger.  But for now the littlest part of my trio is still so very very little and new and fragile.  But if all that Kitty and Elma can do is kiss and pet their brother then they're going to make sure he's the most cuddled baby that two big sisters ever did have:
Two little sisters, and a brother too – in October: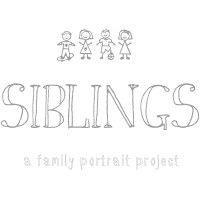 This month I'm sending you on to a lovely (and award-winning!) lady who needs no introduction! Katie's girls are a smidgen younger than Kitty and Elma and with a very similar age gap and I love seeing what her girls are up to – and recognising so much of the day to day life in a family of little girls.


<!– end LinkyTools script —>