Spring has sprung. We've shrugged off the gloom and the rain of winter for one wonderful weekend of warm and sunny weather and even when the cold wind returned it's sent daffodils bouncing in the front garden, and the rain splatter down on a smattering of primroses nestling into the back lawn, all sunny yellow and that faintly brownish mauve colour that always reminds me of soap boxes and my grandma. In short there is new life and brightness in the world and that makes all the difference.
It's meant afternoons spent outside in the garden (and mornings, and even the occasional pre-breakfast trip), long hours spent at the play park up the hill, and the promise of even more outside time as the weather gets warmer and the daylight gets longer.
And that, and Elma's increased mobility, has had an impact on how they play together. My little girls get on incredibly well together for the most part (and I'm under no illusions as to how lucky we are on that front), but it's only recently that we've started to see the shift from playing happily but independently near each other, to doing the same thing next to each other, to actually playing in the same little make believe world. Or at least, to Kitty including Elma as a vital part of the make believe world. Generally meaning that Kitty tells Elma what to do, Elma gazes adoringly up at her sister, and then does what she wants anyway.
The car at the play park becomes a pirate ship as Captain Kitty leaves First Mate Elma at the helm as she goes off in search of treasure; or the roundabout, which was something to do with fairies that I never quite made out, suddenly must have Elma on it as Kitty whirls around the outside to the chorus of "slowly please…… slowly…….more slowly!" from me while Her small sister clings on delightedly.
But for all the talk of the outside, my favourite pictures of my two this month are from inside, inside a garden centre to be precise – so that's practically halfway outside isn't it? We'd gone on an expedition with Grandma and Grandad to have lunch and a little wander round, and the girls came across two child-sized beanbag garden chairs on display and settled in for a little sit down.
It just seems so very them; Elma closely examining a little wooden railway carriage with her initial on it that was destined to come home with us for a girl who loves her trains, and Kitty, putting proof to the phrase "so relaxed she's horizontal" and playing up to the camera with such a cheeky twinkle in her eye.
Two little sisters, in April.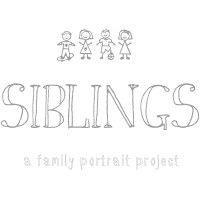 This month I'm sending you to the lovely Jess who quite frankly has more creative inventiveness in her little finger than in the whole of me. I think she may also have found a way to warp the space time continuum that she's keeping a secret from the rest of us too because not only does she write and take pictures of her two gorgeous children but she's also started up a new blog Let's Do Something Crafty which is filled with a gazillion ideas for rainy afternoons, many of which can be rendered in pink, purple or both (always a plus round here). And as a bit of sideline cheerleading she's currently a finalist in the MADs awards and I would love to see her win a little something sparkly for her mantelpiece come the autumn so do cast a vote in her direction!
And now back to the topic in hand – I know there will be the ten of us sharing our siblings; would you like to join us?