H and I have spent a wonderful week in a combination of Arran and Argyll time – very laid back, very chilled – pure bliss – it's a real bump back down to English time which revolves around trains and time recording.
We have many pictures, and many tales to tell so I'm leaping into part 1 of an epic three-parter: "what we did in Scotland".
Last Wednesday we loaded up the knitting and drove up to Edinburgh where H's brother and sister live – it was lovely to see them and my SIL managed to get the Thursday off work/university classes to spend the day with us, pootling around Edinburgh. We hit central Edinburgh midmorning and spent a good while trying to find buttons for this:


Finished (but for the buttons) on Wednesday night/ Thursday morning. All plans for multi-coloured stripes etc were blown out of the water by a slight yarn shortage – I tried corrugated ribbing in blue and pale blue but it just looked messy next to the solid colour blocks so blue and red it is. Unfortunately although I found a rather cute sheep button to add to the tin, we didn't find anything quite right so the search continues – it doesn't fit any of the babies I know at the moment (seeing as how they are all currently bumps) so there's no rush.
Time being such a valuable commodity it has to be one of the great pleasures to spend time with people that you love without feeling that you have to dash off and do something – so we had a very leisurely lunch and toddled up the hill to the castle for a view: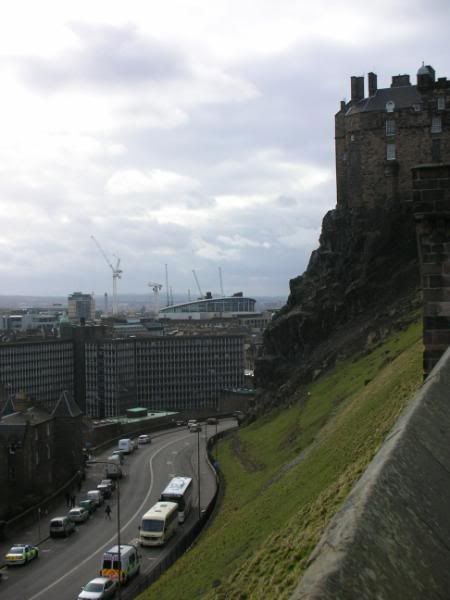 It really is quite a drop off either side and so nice to see it without scaffolding bleachers like last time.

Having found one castle it seemed only right to make it the theme for the day, so we found another one: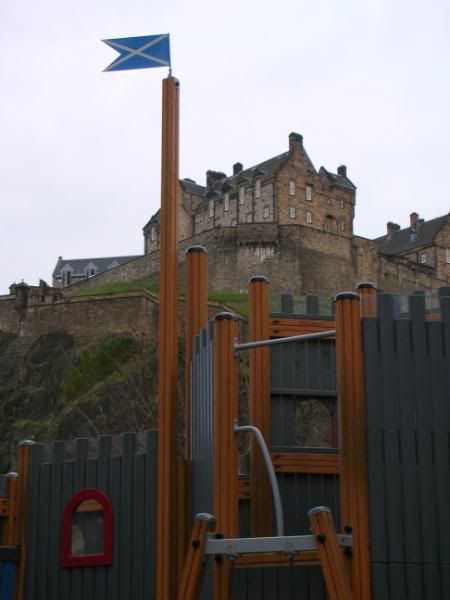 And acted in a manner entirely consistent with our ages and position in society: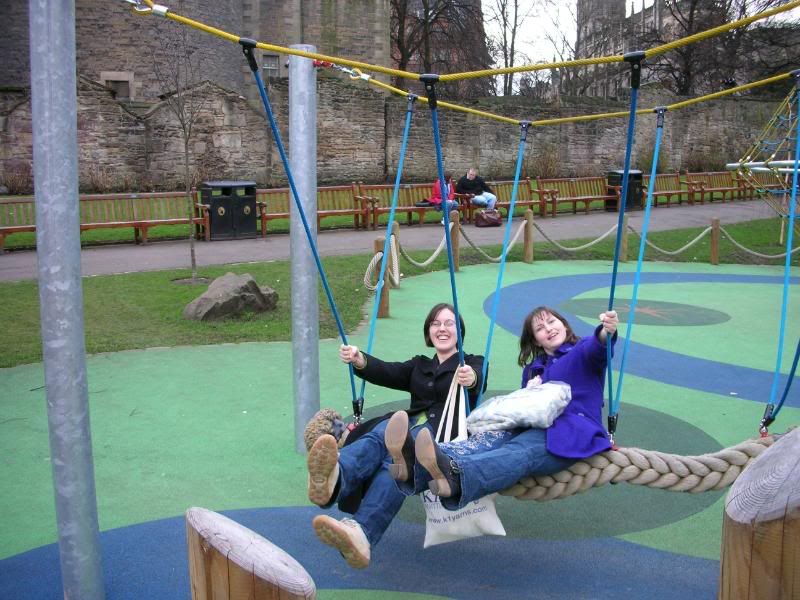 The observant among you will notice that I am dangling a bag that if you look very carefully contains the magic word that makes all knitters' hearts leap at the thought: "yarn"
And the bag does not lie – Ysolda mentioned on her blog that K1 yarns had opened up in Edinburgh so we went in search and this is truly not a shop to be missed – tucked just around the corner from the castle it's bright and spacious and has all sorts of wonderful nuggets of potential, some of which may have come home with me. (It was at this point that we gave up on even the pretence of doing any culture and went shopping)
K1 stock a huge range of overseas knitting magazines and crazy yarn like Habu stainless steel yarn (loved the colours, couldn't for the life of me work out what I would knit with it) and this:


Fyberspates Scrumptious Blue Faced Leicester and Silk – my SIL appreciates and wears her knitwear with pride (she also once bought me yarn for Christmas) so this is to be a hat for her – something cabley I think – let me know if you have any pattern suggestions – it's aran ish weight.
I also acquired a couple of balls of Noro Kureyon, having not really put up much resistance to the idea of a full size Lizard Ridge blanket to snuggle under. I took my existing Noro to Scotland as it's a nice quick knit-while-you-chat type project and I made three squares while I was away north, one in each of my trio and each vaguely connected in colour to the place.
This is the Edinburgh square:


Green for all the grass, grey for the buildings and a flash of purple for all the thistle-shaped tartan tat.
In our next installment – we go to a place where it rains at least every 11 minutes.