It is perhaps inevitable that someone who is this much of a colour magpie could stick to just the one discipline; why just knit when there are so many pretty fabrics to play with; more than you would want to hide in a bag lining?
I am a very novice quilter, yet for all that I have a lovely embrio stash and many dreams just waiting for "when I have the time". In order to move some of these projects from pipe dream to something to curl up under I was delighted to find that Quilter's Den (a relatively new addition to Warwick) was offering workshops as although I can see how a quilt fits together in theory, putting the whole thing into practice is a bit more of a challenge.
Today's half day workshop was beginner Log Cabin quilts, held in their little sewing room next to the main shop. For 2.5 hours I learnt a huge amount in terms of cutting and piecing techniques, mainly the fact that a quarter inch foot for my sewing machine would be a really useful aid in my trying to sew quarter inch seams! The project was to make four little log cabins to combine however you liked – what I had never realised was that you could make all 4 at once, rather than each tiny one individually – it's so much quicker the new way!
I took along a bundle of fat quarters that I bought in New England on a summer holiday several years ago – the theme of the bundle is gingerbread men and the fabrics all tie in, or are checks that match. So here are my four blocks (mostly done in the class and then finished off at home):
That is the way that the class project was laid out but they just ask to be played around with – you could have them like this: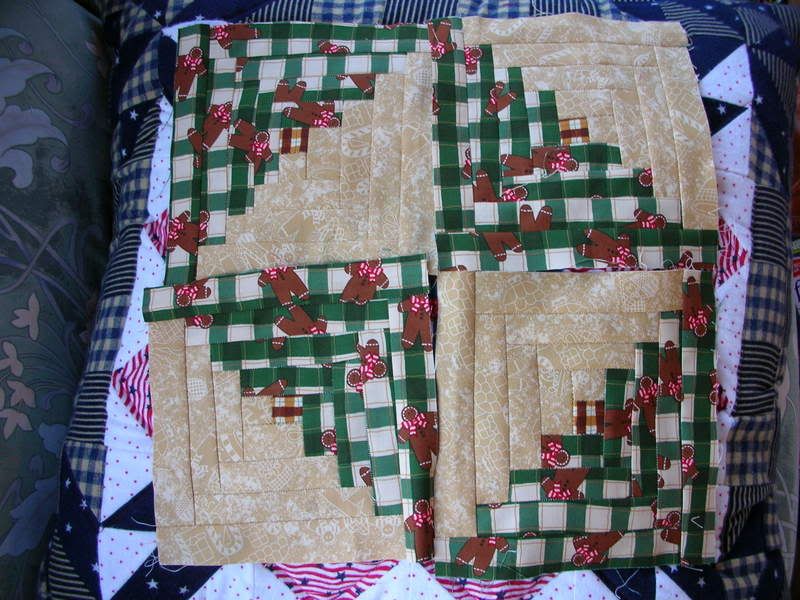 Or this:
Or this: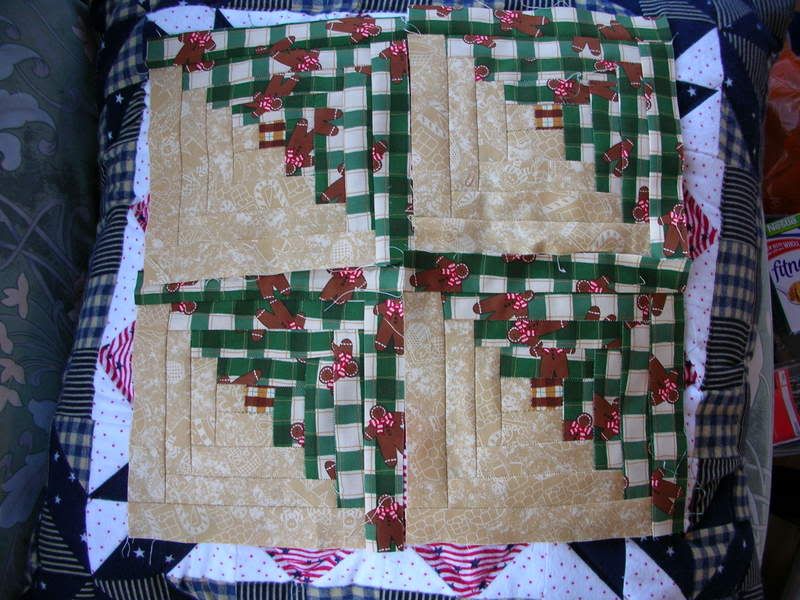 If you look carefully at the cream you can see the gingerbread men and their gingerbread house and even a pot of ginger:
My final version: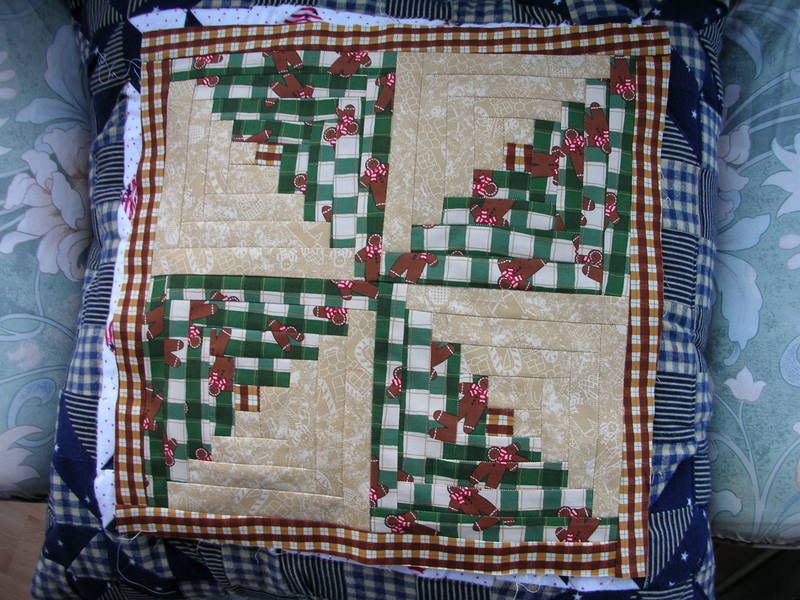 A pinwheel – with added borders (the pattern is wonky check – it isn't my cutting by the way) to pick up on the centre square which otherwise gets rather lost in the green gingerbread men.
This fabric comes from the same bundle and I'm planning to use it as backing to my square which is going to be – well just a quilted square. I'll call it a table mat if I'm feeling adventurous.
There are two things that I am particularly proud of – one is this:
The centre join with a gingerbread man peeping out to say hello, and the other is this:
For a beginner I think that's pretty much a square.
I feel the signs of another addiction coming on…… if only I could figure out a way to warp time so that I could do more quilting/knitting/embroidery/sewing and H could do more sport/painting and we both could do less work – the lottery it is! It might help if I actually bought a ticket though – hmm that could be why we never win.