It's official – no more work until after Christmas – yippeee! I can't believe that I haven't posted since Monday, I kept meaning to and even took the photos but somehow life, shopping, present wrapping and everything else ate up my time. The last week has been a bit of a whirlwind trying to get the urgent jobs done and trying to remember to do all of my other jobs at the same time.
In all of this there has been some knitting – I'm now turning the heel on the second Tuscan sock and I've made a little more progress on my Holly Queen but the evenings have been full of all sorts of very Christmassy things – including of course a trip to Tescos on Thursday night for the Christmas shop – we were not the only ones that thought this was a good idea but I bet it was a million times busier today.
Shopping today merely involved going to the farm shop to pick up the turkey and veg and other bits and pieces – calm, relaxed and they'd only run out of eggs because the hens hadn't being laying. How can you not love a farm that has a sign on the door to say they are a bit short of eggs and so they will put some outside the door on 25th and 26th – please put money in the honesty box!
Yesterday our office team (of 7) went out for our Christmas lunch which was fantastic. Two of my colleagues decided we needed party hats and at the last minute popped out for 7 santa hats which we all wore walking through Birmingham to lunch, during the meal and even on to the bar next door afterwards. The restaurant gave us a circular table which really made it as a lunch party because we could all talk together.
And then of course we had our secret santa. I don't know who my santa was and I'm trying not to find out but he or she did a wonderful job and gave me a set of four little dishes shaped as Christmas trees – perfect for Father Christmas' mince pie!
My victim, sorry, child-who-had-been-nice-not-naughty was one of our secretaries and among other things Santa brought her were "spare" computer keys; marked "panic", "panic over", and "eject seat" – she thought they were a hoot!
So now I'm at home having spent the day running around doing chores – the downstairs of the house is now Christmas-tidy which is just as well as friends are coming to visit tomorrow. The upstairs will have to wait for now because I'm going to go and curl up on the sofa and watch cheesy christmas films with H.
I do have to show one early Christmas present: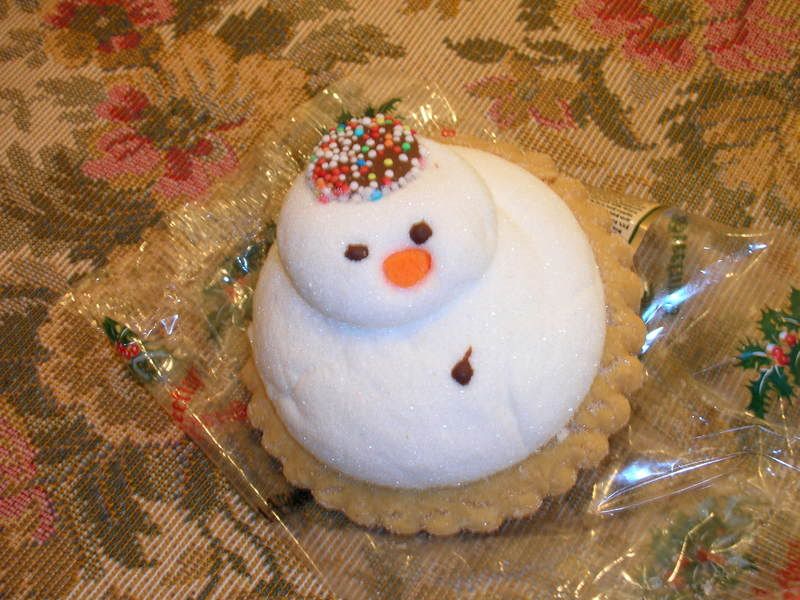 This is the biscuit that the train company gave the commuters. It has now been consumed and was discovered to be shortbread with a marshmallow top and a lump of jam in the middle. Thank you and merry Christmas to the train company!