Yes, you did read it correctly – try to sit down and have a glass of water, I know it's a shock.
Whenever I'm at work and it's 3pm and I don't like the work I have to do for the rest of the afternoon I fantasise about how when I'm on holiday I'll sit on the sofa and watch bad movies and knit ALL day. Somehow meals will appear, laundry and housework will be done and the groceries will magically arrive in the cupboards (actually I do get them delivered most of the time so I can't complain) – why does that never actually happen?
My jobs for today day were the Christmas spice cookies and the mince pies – the cookies looked like this:
until Carie's little sweat shop got going with the icing:
The boys may be old (27! shh) but give them brightly coloured icing, icing writing pens, hundreds and thousands and silver balls and they're well away- I dread to think what kind of weird and wonderful colours our insides are turning.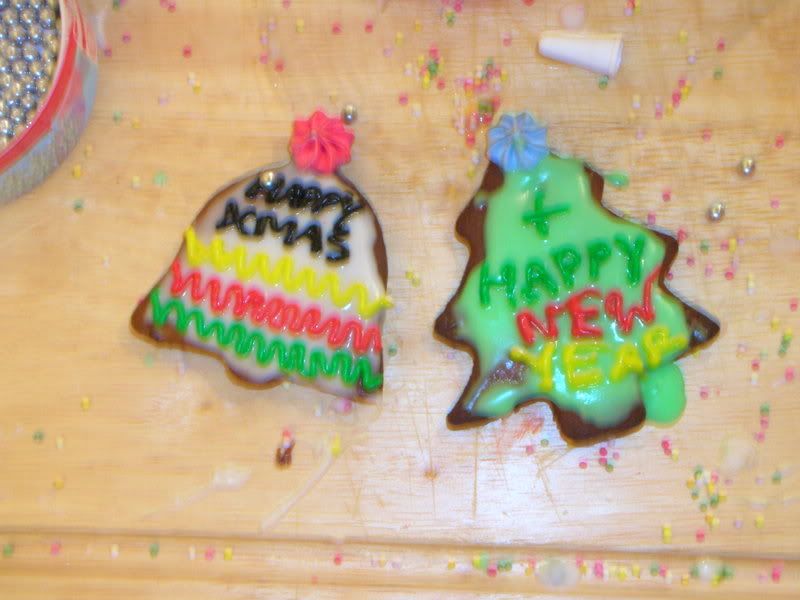 I left them to it and moved on to the mince pies – all done now, and they've got my name on them in more ways than one:
All of this left little time for my sofa-driven knitting fantasy life and in fact my craftyness recently has been largely papery. H decided that we needed a pre-Christmas activity and came home with a packet of paper chains and they do add more cheery colour to the room. Mine are beautifully organised in a repeating colour sequence; H's is more eclectic!
And finally, when the icing dried and the carolling died down, I dug out a little kit.
Ages ago (by which I mean a couple of years at least), I went to a show at Olympia and saw the
Nutmeg Company
bits and bobs and fell in love with
a Christmas tree decoration
but by that point they were all sold out. One year later I went to the same show and made a beeline for their stand and since then the kit has sat on my desk – but now….
It is a three-sided "snowball" and this is side 1 ( sides 2 and 3 are different views of the Little Town of Bethlehem), cross stitched onto perforated paper. When all three are done I'll cut them out and stick them together with ribbon running through the middle.
I had thought of finishing it before Christmas but that seems unlikely now – I think I'll settle for it going on the tree before the tree comes down.
After knitting it's astonishing how long it takes to sew such a tiny area!