And this past week has been no exception. My best work mate has gone on to pastures new and lucky me has inherited much of her case load (including a case I delegated to her 2 years ago – thanks a bunch). We'll still keep in touch and travel on the same train etc but all the same I'm sorry to see her go – we're not such a big team that someone can leave without there being a bit of a hole left behind. Anyway last week turned into a whirlwind of lunches, leaving drinks and handover meetings.
Still , this Saturday's child will attest that Saturdays are not for working (well not unless you really have to) and this Saturday was a day of fun, giggles and squee-noises thanks to a combination of arrivals.
Where should I start first….?
How about where yarn comes from – a sheep: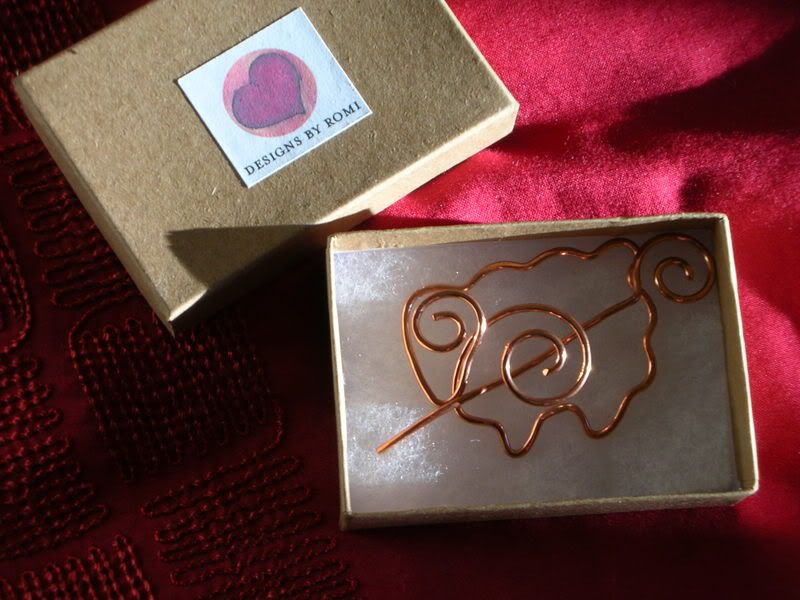 In my case, via a postman. When H and I were in Scotland we spent a fair bit of time trawling the grockle shops trying to find a shawl pin for me. We found a couple I liked but couldn't afford and a multitude of ones I could afford but wouldn't touch in a million years unless desperate for an extras role in a remake of Braveheart. I've seen
Romi's
shawl pins in my internet travels so I pointed H in the right direction and he choose this little ram, currently to be found in his natural habitat – my Swan Lake Stole:
The beads are copper coloured and the ram just sets them off nicely. I also have a little treat laid up for November (I think it will be my NaNoSweMo project) which fastens with a shawl pin and the copper of the ram will work beautifully with the blue/green/brown of the jacket.
So once you have the yarn, or the sheep – what next?… unless you have amazing natural skills (and you should see the things
Susan
is producing at the moment as an example of this) you need a pattern. Ever since I finished Kauni I've been craving fairisle and colourwork and beautifully multicoloured projects. If you want a bit of eye candy just look at
Stranded on Fairisle
for really beautiful examples.
Alice Starmore is known for stunning fairisle but due to a huge IP saga (check out
the Girl from Auntie
if you're curious), many of her books are out of print. Out of print they may be but Warwickshire Libraries have come up trumps and with a bit of pre-ordering, all four books in the catalogue turned up in my nearest library during the week. Saturday morning I hopped on the bike and went to rescue them:
So far I've read Knitting from the British Isles which was interesting from a history point of view but the patterns were frankly scary (or I could be polite and say that they pre-date me but you can see the front cover). I'm working through the Fairisle Knitting book which I'm really enjoying both for the background information and the details on how to construct your own fairisle. There are even a couple of patterns that I might use as a bit of inspiration – I'll let you know how I get on with the other two but from a glance the Celtic Collection has some patterns I might really have to add to my "to knit" list.
If pattern books form one side of a trinity of knitting then yarn must be one of the other two. The Christmas knitting is making good progress so I did a little shopping at
Web of Wool
for the rest. Some of the Christmas stash is clearly blog-barred for the moment but as I'm 99.9999% certain that my siblings-in-law haven't discovered the blog, you might get to see their presents in progress. If you are, or think you may be a brother, sister or in-law to my husband you are officially warned off the blog until Christmas. In any event – how on earth did you find it?
To complete the trinity (and make my Saturday) I had a little card from my postman – a parcel was waiting in the sorting office for me – do you want to see what it was?
I'm not usually a sucker for packaging but when I opened the box and saw this:
well the fact that I stopped to take a picture I think speaks volumes.
Socktopus
is starting a sock club in December using sock yarn that you can't get in the UK and I'm all signed up with needles at the ready. In signing up it is just
possible
that something
accidentally fell into my basket:
I know the Tulips kit has been flying off shelves since the
Yarn Harlot
started a craze for them and I can see why – it's a sweet pattern and the yarn is slightly heathered and just lovely. Mum before you panic, I have a friend's baby on the radar for about March and if they have a little girl I might try to part with it. If they have a boy (and it's been all about the boys recently) I might knit a different colour variation. On a side note, if I even vaguely suggest that I might knit them a baby blanket you all have my full permission to come and take the needles from my hands and lead me away from the Baby Cashmerino to a safer place. (Please don't straightjacket me – then I won't be able to knit).
The bottle is of Lavender Euclan – a much-lauded wool wash which smells wonderful and the sachets are a little present from Alice – more Euclan!
Valiantly resisting the siren call of all of the above I even went to the gym and did some chores before falling prey to the call of the sofa – it was a great day
On yet another side note – can I count as cardiovascular activity the time I spent hopping up and down at H squeaking "look at this, look how cool it is, no look; H! actually look, it's knitting and it's really pretty and if you don't look right now I'm going to knit you this scary sweater and make you wear it"?
H now has a good grasp of the contents and importance of both a Baby tulips kit and an Alice Starmore book – one of the many reasons why I love that man