Well the sun was supposed to shine. I was supposed to be having a week off to enjoy the garden, maybe go camping for a couple of nights and certainly do some exploring. Sadly these plans have had to be abandonned as it continues to rain heavily every hour as the showers pass through.
Well what else's a girl to do but curl up, watch people getting very wet at Wimbledon and knit!
So what does this
tell you about my weekend?
It says that I finished these:
My sockpalooza's socks are done – the Spiral Rib knee socks from Interweave in plum coloured Opal.
and… I finished the Tired Roses scarf. Here it is relaxing in the garden in a brief interlude in the rain!
Following a little soak, I pinned it out as much as possible:
and let it dry overnight.
Et voila this morning:
The pattern is essentially a one-skein variation of the Print o the Wave stole made with one skein of 100% silk laceweight from Curious Yarns (currently on sabatical) in their Tired Roses colourway- hence the name! This is an "it's my own invention" type of scarf with the plan to knit until I ran out of yarn – this is what I have left:
so I'm pretty happy with that.
While the scarf was drying I played with my new toy
And discovered the side effects of too much rainbow yarn- you get simply bedazzled by the colours!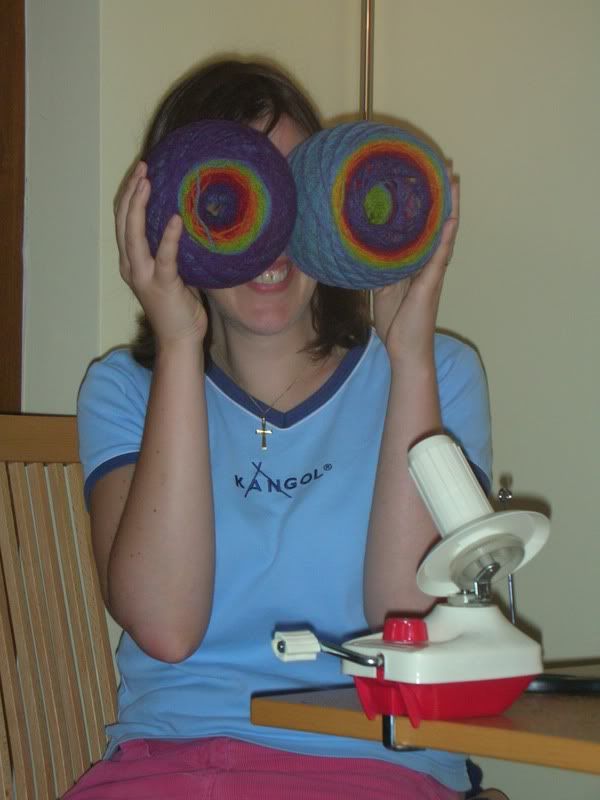 Having swatched and got gauge (phew) I'm off to cast on for the real thing!
PS – letting your husband be in charge of the photo shoot for your new scarf can have unexpected photographic results! Here I demonstrate the "posing in the garden window to make sure the scarf is straight posture"