It's been a while – life has been taking over the little knitty-sphere which I inhabit in a most distressing way. Happily knit and purl have been restored and I have news and a little progress to share.
This first news is that I have not dissappeared in a rush of muddy water. This is a good thing. All the knitting is safe (you may all now breathe a collective sigh of relief). However, it has been just a tad watery round here recently. I missed all the excitement/frustration as another Biblical downpour swept the country on Friday by working in London and thereby being where I needed to be before the rain hit. At 11.30 in central London the sky was a dark grubby pewter and the street lights had started to come on; when we came out of Court 45 minutes later, it looked like all the water that there has ever been was coming out of the sky to the extent that my barrister phoned chambers and arranged for his clerk to come to meet us with an extra brolly. (I still stepped in a puddle anyway!).
Please pity the Law Society who had chosen that moment to have a fire drill!
Apart from falling over on the tube on the slippy floor (NB to self: when you slip carrying 6 files in a bag on one shoulder you ARE going to wipe-out despite all your best efforts. Next time, don't land on the files – they have corners and they hurt) that was about it – I finished off my day working in steamy sunshine and tootled down to my sister's flat for our planned weekend.
My poor lovely H was stuck a little higher up the country. He works around 20 mins drive from where we live. Friday night it took him 1.5 hrs to get home driving through 6 inches of standing water most of the way. I blithely assured him that he should just hop on the train down to London only for him to discover that no trains were running anywhere at all and the motorway had many miles of stationary traffic. It all got so extreme that the Police were closing the neighbouring villages to through traffic and our village had resumed its island status. After much knashing of teeth he decided to travel down the next day, fortunately without incident.
Still he was lucky it wasn't worse – I have yet to hear quite what happenned to my commuting collegues last Friday but I think they'll have a tale to tell.
Saturday we headed off in brilliant sunshine to see England v India at Lords- yippeee
We watched England warm up in enthusiastic style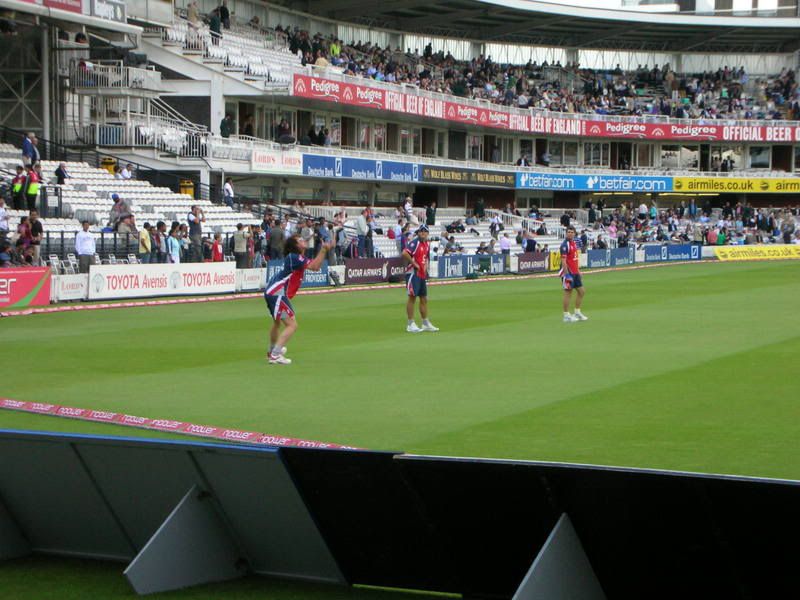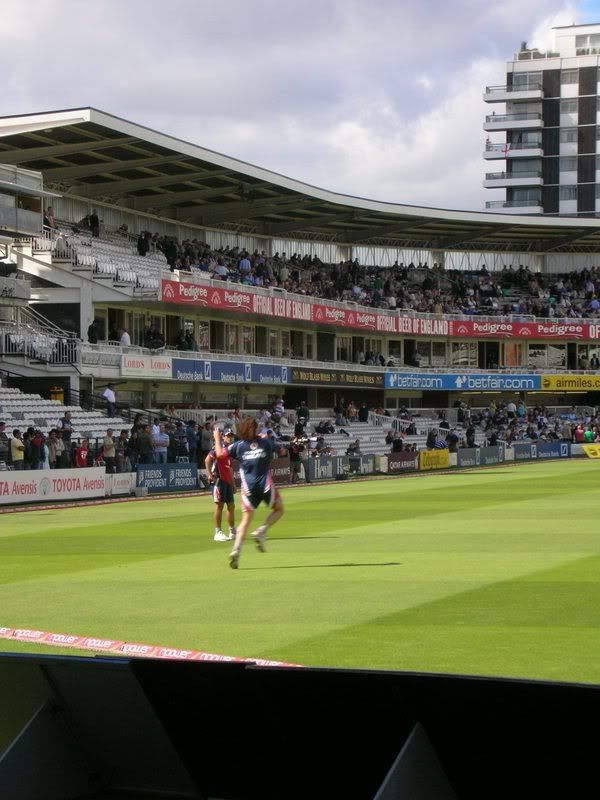 And then we went to find India

OK, OK that's only some of the team – the rest of them were practicing batting!

After a fantastic morning's English bowling, the inevitable happenned and after the lunchtime interval demonstration of Archery (sounds completely unrelated to cricket but Lords will be the venue for the Olympic Archery) we had this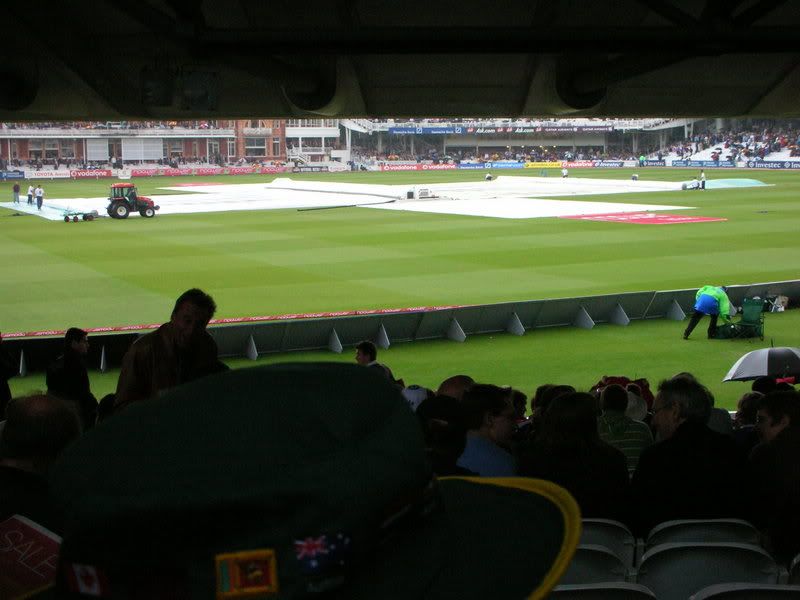 We did get some brief cricket breaks in the afternoon:
And when they were playing it was fantastic but mostly it rained and we snoozed (including one guy in front who interestingly slept during the cricket play!)
Now then I promise this is still a knitting blog rather than a weather report and I do have a belated answer to an earlier question – if your husband takes to wearing odd knitting socks you hurry up and finish the second one!

H's latest socks are a 68st simple sock in Regia Nation #5399 on 2.5mm DPNs and he loves them.
I've also learnt a few more of my letters as you see:

I'd hoped to get a bit further this weekend but my aim at present is to finish it by the end of July. Kauni and the Mystery Stole are taking a bit of a back seat until the blanket is finit and then I can go to town!
One final question – what do you think this is?