Ladies and Gentlemen, may I present:
Aimee
Finished in all her glory. I am very happy.
It appears that Aimee is a lady with a character; a character appropriate to a lady of that vintage. This is the only reason why I can fathom that she was determined to be character-building – it fits with the blitz spirit!
If the long hours spent repeating "yo sl1 k1 psso" were not enough to teach me patience and determination then seaming in Kid Silk Haze certainly was. And then there is the tale of the neckband.
The pattern as written requires you to oh so carefully pick up and knit 4 rows of reverse stst around the neckline and then cast off loosely. Monday night I settled down, oh so carefully knit those four rows, cast off with a much bigger needle for the looser finish and then pinned together the other shoulder seam.
Slight hitch – it wouldn't go over my head. Oops. Various solutions came to mind – a ribbon tie shoulder, buttons or even doing cunning things to the neckband a la Peggy's dress but they all stemmed from the same starting point – removing 4 rows of KSH knit on 3mm needles. If you've never knit with this stuff then there are two things to know; (1) it is wonderful (2) it is velcro and does not like being ripped back when knit up on very tiny needles.
I admit to a short cut (literally!). I cut one end and then unpicked the neckband from the neck!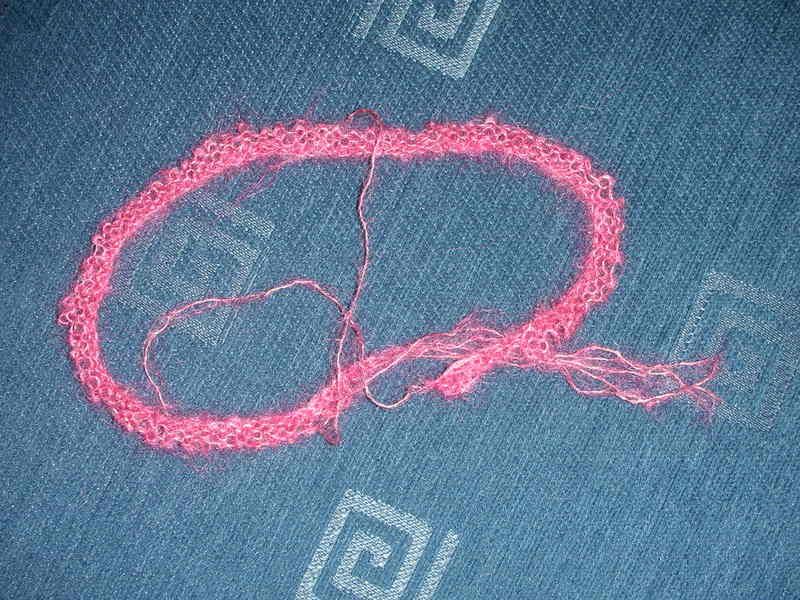 I thought about putting a crochet chain around the neckline or even a little picot to match the bottom edge but when I'd seamed up the rest of it I decided it doesn't need it and I actually like it better without, I don't think it needs anything else to look "finished" but I'm well aware that my judgment may be affected by KSH fumes and too much chocolate rocky road so any thoughts are welcome.
Anyway, for anyone that wasn't reading the blog last November (can you believe this was supposed to be my NaNoSweMo sweater – ouch!) the pattern is from Rowan Vintage Style (it may be called Vintage Knits sometimes) and I knit the medium with length added to both the body and the sleeves. The pattern calls for only 4 balls of yarn which might just work if you didn't add extra length – I all probably over half way into the 5th ball and I know other people have mentioned producing stripier versions and being a bit tight on yarn.
The ribbon was from Liberty and is frivolous!
Resisting the Kauni's siren song I have cast on the other half of my tired roses scarf but come rain or more rain, next week I will fall prey to her rainbow delights!