Well it's been and gone; both the weekend and the sunshine that is.
Saturday was intermittently wet but Sunday was lovely and I had a change on Sunday afternoon to see what effect the rain has had on the garden.
It seems that the garden is at it again – my courgette plant has sprouted not only two baby courgettes but also these:

Two baby sheep shoes!!how does it do it?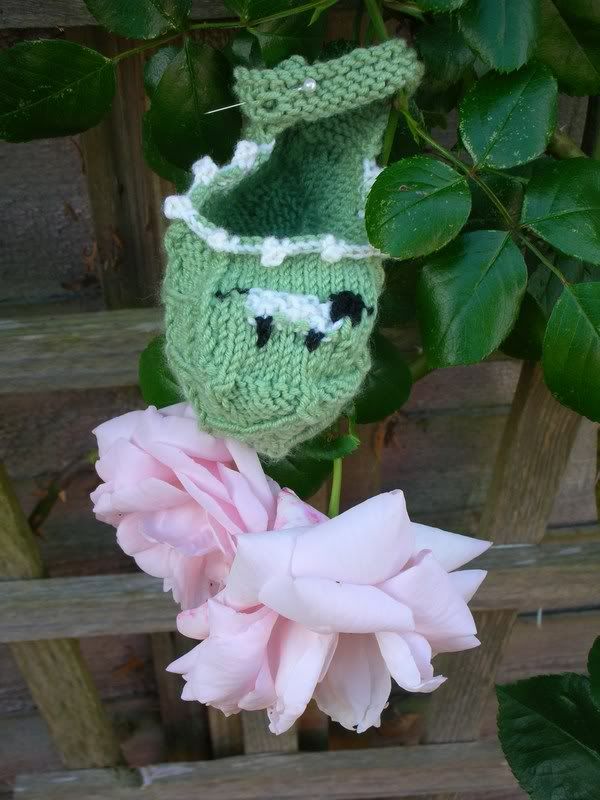 One was even found to have migrated to a rose bush – simply staggering.
OK, ok – enough of the silly garden piccies. The end of last week saw a surge in finishing which culminated in this "action" shot: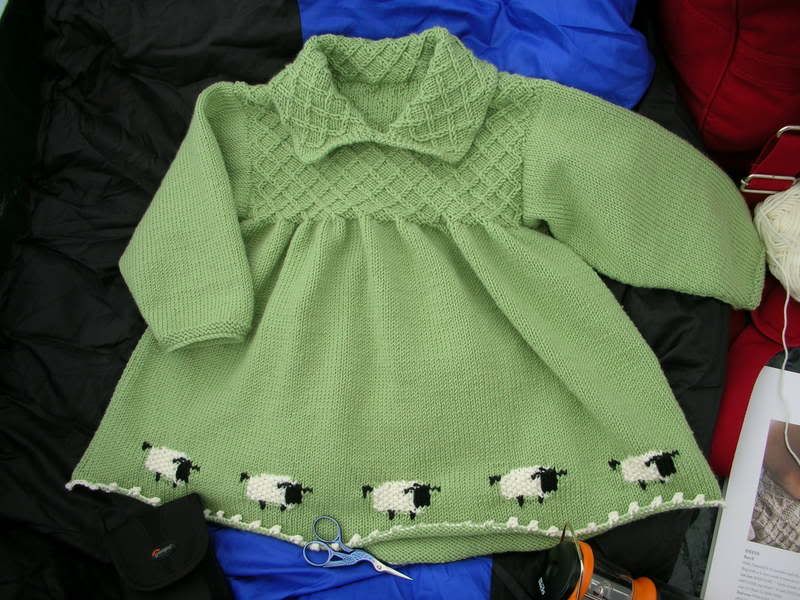 This is Peggy's dress, posing on H's sleeping bag in our tent at a hockey festival, shortly after completion. H thought it was very good and liked the was the picot edging looks like a picket fence!
As you can see from the picture I'm having to hold the end down to stop it roling up – it's currently blocking which should help but it's curling up a bit even in the photo in the book so I'm not too bothered.
Having finished the dress Saturday afternoon I cast on for the shoes and I had finished both shoes shortly after the end of the Indy Grand Prix yesterday – they are wonderfully fast knits and so cute. I'm not quite sure how to block them though, possibly with a bit of rolled up paper towel inside to give the shape – any suggestions let me know.
The live stitches for the neckline plan also worked really well. I calculated how many stitches I needed for the collar, picked up and knit sts round the neckline to match (including the live sts) and then grafted the two together with the smooth side (ie the stst front side) on top so that the bit touching Peggy's neck will be soft. It is very nice and stretchy to the extent that it actually goes over my head (Sheep dress as a tabard look is rather unusual though). I am very pleased with both the dress and the shoes but now I have to wait another month to send it to Peggy – hopefully just enough time to knit a little sheep to match (and lots of other things in the knitting queue!)
The gory details: Sheep Dress from Debbie Bliss Baby Knits book. The pattern calls for Debbie Bliss wool cotton, I used baby cashmerino with no problems. I have used 7.5 balls of green and a smigin of off white (the true white is a bit scary for sheep) and black on 3.5 needles.
The only problem I found in the pattern was for the shaping on the shoes, it says skpo where it means p2tog on one row but that's easily picked up, otherwise it's another great Debbie Bliss pattern that I enjoyed knitting. If you fancy trying it I would recommend working out cabling without an extra needle as it saves so much time!
And finally, a picture of what the rain really brought out in my garden: