Hurrah the gremlins have been exorcised! It turned out the gremlins were not so much in the computer (phew) as in the power supply to the wireless router which had gently fried itself hence no internet and a very confused computer. All is now well (she says touching all available imitation wood and crossing fingers and toes).
Anyway, did I mention I've been making pretty things. Less internet does seem to equal more knitting (who would have thought!) so here is the beauty parade: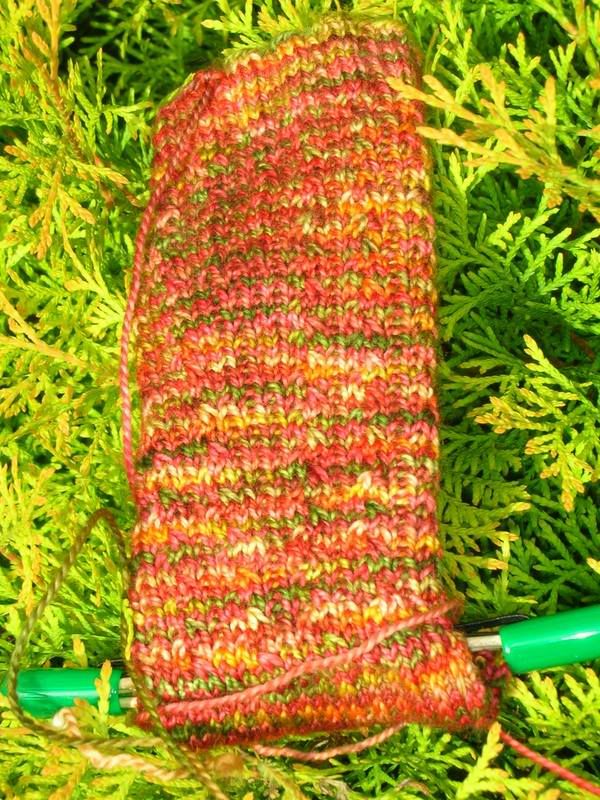 First up – the current sock in progress. Looking at the picture I appear to have taken a shot of the back of the sock which has various elements of shaping in it so you can't really see the braid pattern – I promise it's there and will be much more visible when the sock is on a foot – I tried to put it on my foot yesterday and broke another needle – oops. The yarn is Lucy Neatby Celestial Merino in Sugar Maple and the pattern is Conwy from Socks on the Road – the pattern is more time consuming than some but I love the yarn and the finished effect so who am I to complain!

I have finished the first half of my Tired Roses scarf; my cunning plan is to knit the first half, knit on the edging, knit a bit of the second half, knit the second edging and then knit until I run out of yarn and then graft the two halves together. If I end up with slightly more repeats on one half than the other I don't think it will be that noticiable and I can already see that when it's properly blocked it will look very summery.

Something pretty in green for Project Spectrum – 8 rows of stst at the moment, I'm waiting for some black and no I'm not going to tell you what it is yet – all will be revealed in time – guesses in the comments!
I think yesterday I was having a touch of finishingitis what with completing half of the scarf and the edging. I also rescued Aimee from the bottom of the knitting basket and finished off the front. It didn't take that long and leaves me wondering why it has been neglected for so long. Now all I have to do are two sleeves and then she will be ready for the summer!
Today has been spent seriously tidying our lounge and trying to find somewhere for all the yarn and paint to live – I think we're getting there but I have definitely earnt my knitting time today. So, the podcasts are downloading (yippeeeeee) and I'm off to curl up on the sofa but with what? Sock, Scarf or Sleeves – the choice is ……… entirely random!
Hope you all had a good weekend