Well I did say the knitting had got a bit longer!
Et voila – I have finished the back of Peggy's dress and my Conwy socks:
Peggy's dress is as always great fun to work on, especially now I've mastered the smoking without needing an extra cable needle. Somehow I always seem to stab myself with a cable needle so it's a useful skill. If you're looking for a tutorial on how to do it there are many but the one I found most helpful was Grumperina's.
And now for the properly finished object!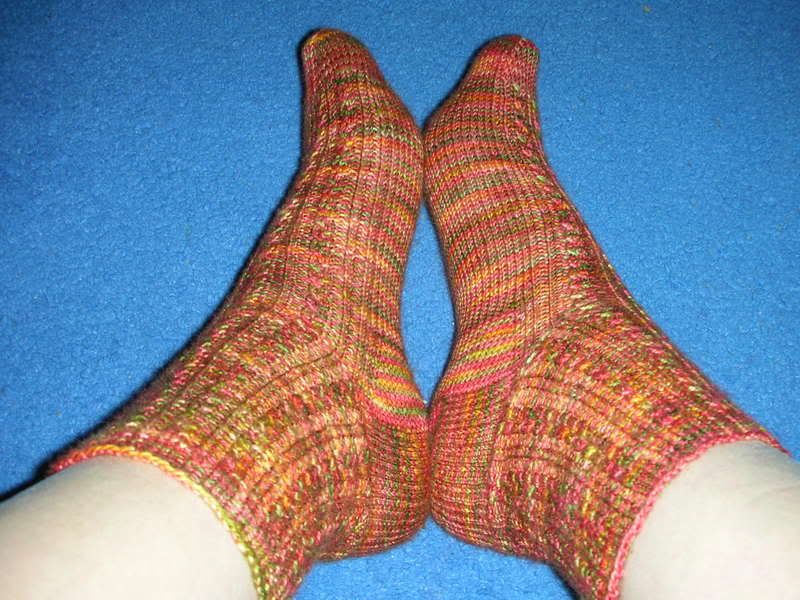 My legs are scarily pale but in real life these socks have a beautiful warm glow and the yarn (Lucy Neatby Celestial Merino) is wonderfully soft. I finished these on the way home and I have a new entry on the list of "how to freak out the muggles!" – finish your second sock, darn in the ends and pop them on your feet – seriously I got some wonderful looks but it's been cold of late and I'm liking the snuggly feel.
I knit these socks pretty much to the pattern although as I had yardage concerns I only knit the legs to 6″ rather than the pattern's 8″. They are not ankle socks and fall on me about where commercial socks fall which is shorter than my handmade socks but still a comfortable length. In the end I had a good nugget of yarn left over and I could have had a few more repeats on each leg but rather safe than ripping out almost two pairs of socks because you fall a bit short! Watch out for the remainder of the yarn appearing in something else many moons from now!
All in all another success and I can see these socks rapidly becoming a favourite.
Which leaves Aimee still waiting for the rest of the sleeve, and another sleeve and a bit of sewing up. I now have I think got sufficient yarn to finish the project and I think now it ought to be a pull to the finish, if only to prevent some of the Tuesday night teasing! So the question is, how much knitting would I need to do to finish Aimee by next Tuesday? I'm in London on saturday so I could hit Liberty's for some gorgeous ribbon if I get the time and there will be all that train time. Hmm – must balance overachieving instincts with regard for sanity and need to sleep and tidy the house at some point over the weekend! Only time will tell but for now there is a sleeve calling!
PS – who knew gardening could make your bottom ache so much – dang the clay soil