Knitting News (beep-de-de-beep-de-de-beep)
1, My socks are finished
Socks, meet the blue bench; Blue Bench meet Rolling Thunder. Perhaps slightly more carnival band type thunder than the american indian type thunder Knitty envisaged but if you're going to have lound socks you might as well go the whole nine yarns and add turquoise beads.
H gave me the yarn for Christmas and I love it and the way it fits the pattern – definitely kismet.
2, The update you really want to see: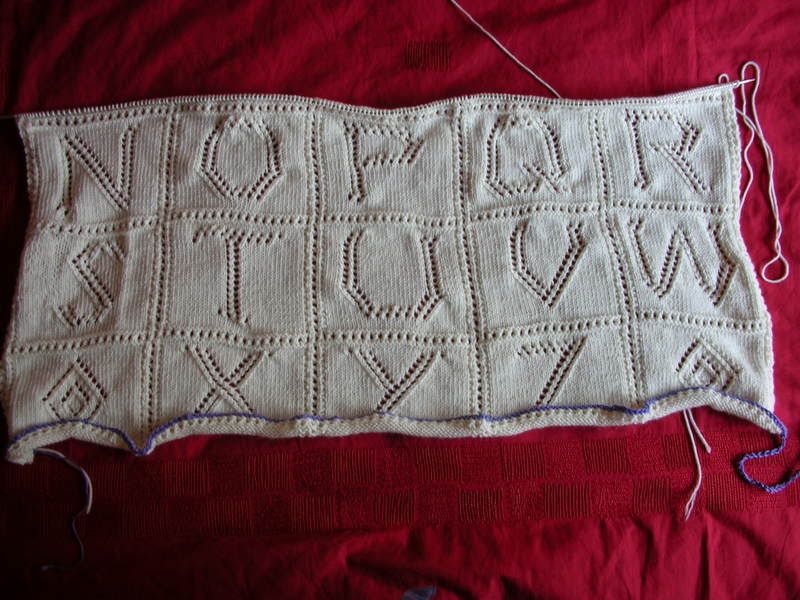 The picture isn't fantastic and the whole thing will need blocking but the third row of blocks is now finished as of this morning. This pattern is great to knit – I highly recommend it and Baby Cashmerino makes a great fabric and so far seems fine as a substitute to the discontinued Debbie Bliss wool cotton and you get a little bit more of it to the ball.
The baby is still due May 14th and as far as I know has not made an early appearance. If I can finish the next tier during next week, one or perhaps two during next weekend then I'll have the bank holiday weekend to put the borders on and block it and give it to the hopefully pleased parent of the baby-to-be. It's all in the power of positive thinking/self delusioning (is that even a word?)
Yarny news or The Stashbust is over
And now, the end is near;
And so I face the final curtain.
My friend, Ill say it clear,
Ill state my case, of which Im certain.
Ive knit, all from my stash.
Ive knit on each and evry highway;
And more, much more than this,
I knit it my way.
Rip backs, Ive had a few;
But then again, too few to mention.
I did what I had to do
And knit anew without exemption.
I planned my charted lace;
Each careful stich knitting every day,
But more, much more than this,
I knit it my way.
Yes, there were times,
Im sure you knew
When I bit off more than I could warp the space time continuum sufficiently to accomplish.
But through it all, when there was doubt,
I stayed up late and knit it out.
I faced my stash, needles in hand;
-And knit it my way!
(with apologies to Frank Sinatra who is by now surely turning in his grave!)
Having completed the stash-bustalong yarn free period with only the purchase of present yarn one day before the end of the period bringing me even close to cracking it is possible that some yarn may have come home with me today and more may be arriving in the mail in due course.
My chief evidence for this is that I found these under the poinsetta while it was airing today.
On the left is a new pair of socks for H and on the right is Jitterbug Blue Parrot that is a million times prettier in real life than in the photo. Of course the only way that they could have arrived here is by sensing my need for them and creating some form of transportation to my house. "Didn't you just have a yarn binge?" I hear you ask; ……….now why would you think that…!
Truly random topics
Random dead donkey – this is delicious if you like your cider – proper cider (ie dry not alcoholic apple juice) with a dash of blackcurrant liquer – oh does this hit the spot!
Anyway, after that ramble I shall leave you to your evening's entertainment and I have to go and finish preparing for a rather exciting weekend – more on that later!