(Fred Allen)
Hurrah the hat is finished – do you want to see?
Now I should probably add in a little disclaimer before I let you see the picture. Point number 1 is that nobody, but nobody looks good in a photo designed to show off the hat and not the person wearing it. If you don't believe me then google some of the blogs and you'll find that people in their hats look very different to their normal photos.
The other thing is that this was the travelling hat of a girl who that morning had got up at 5.45 to travel from Norwich to London to Court, then from London to the office and from the office to home. Also said girl only went to bed at 12.30 the night before because she was out entertaining clients (it's a hard life I know!). Needless to say – this is the picture of a very tired person.
Et voila!
I asked H to model it rather than me so he did: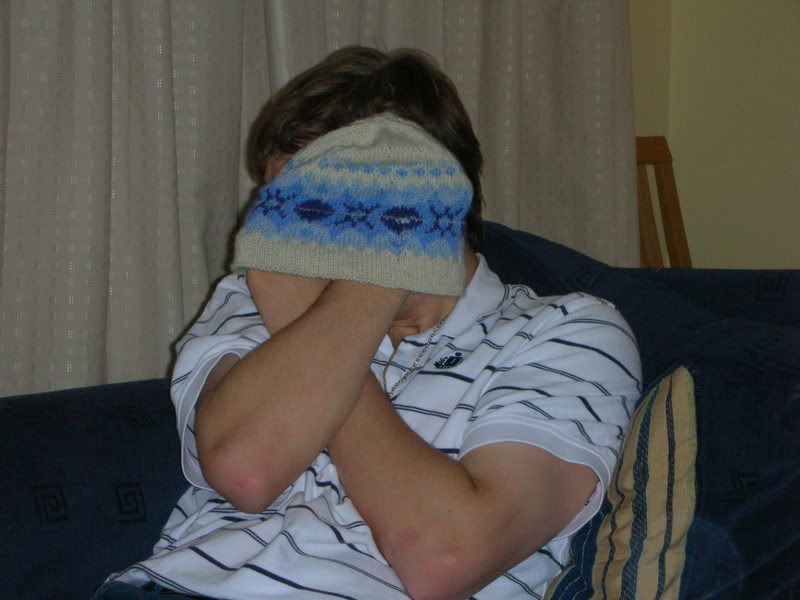 Ok so do you want to see it properly?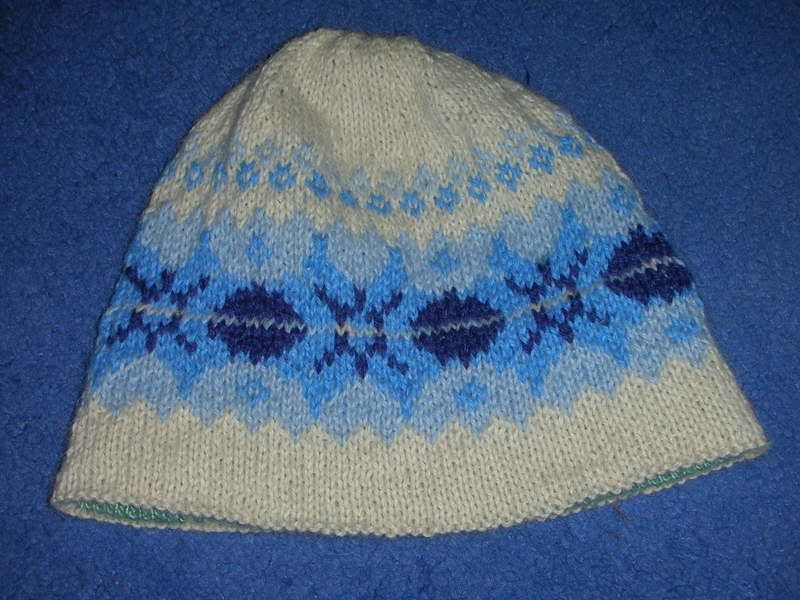 The inside is very pretty too – in the picture above you can just see the green peeking through at the bottom and here it is in all its glory: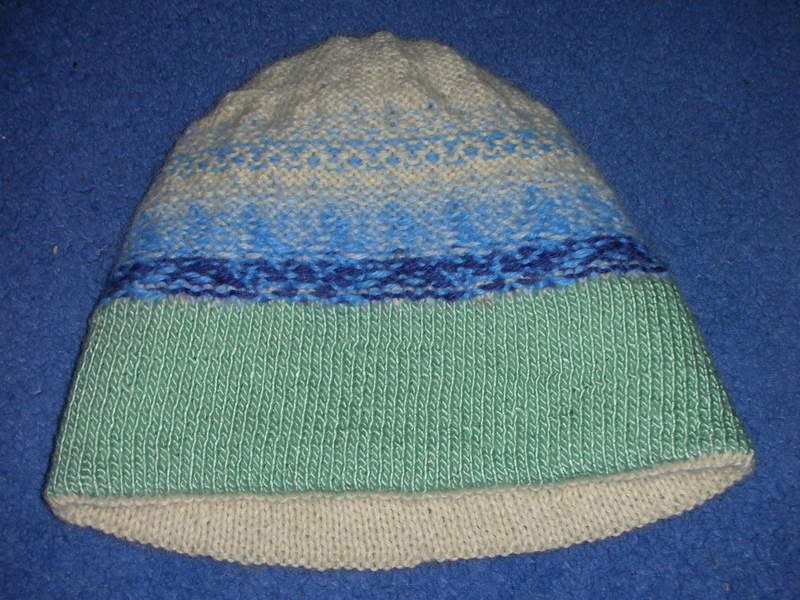 Details (such as they are):
The yarn is all Alpaca Select DK weight alpaca in various colour – the dark blue is left over from my refined raglan and the rest is part of a scarf kit which best friend gave me from Christmas which has been split up to make mittens and now a hat. The green is Debbie Bliss Pure Silk which was left over from a tie front cardi that was also a Christmas present.
I cast on 120st with a provisional cast on with the green and knit in the round on 3.25 mm needles until I ran out of yarn then I knit 1 row in cream, purled for the turning row and started on the front. The fairisle pattern is pilfered from the Shetland Hat pattern in Rowan's RYC Classic Alpaca book and I added an extra row of little diamonds on the top to add a bit of length.
When the length of the outside of the hat matched the green lining I unpicked the crochet cast on, knit a round to match the last round on the outside of the hat and then knit the two together for the next round.
Whilst it doesn't match my mittens it does tone rather nicely and I love it – it got a good test this morning helping to tidy up a friend's garden in a cold northerly breeze.
So as project spectrum's grey, white and blue months come to a close I think I have knit all of my intended projects – although there are many non-knitting things that I meant to do but haven't quite got round to.
I now have two pairs of blue socks (ones for me to keep rather than for the BookbookSecret), a finished lace scarf, my refined raglan and blue and white hat and mittens – what more could a girl want and all from stash (some of it older than others!).
Now for more bookbooksecret knitting – hurrah and happy weekend