Welcome to 2007 – that still seems really odd to write – I've sure I'm going to keep saying 2006 for a while, and 2006 was such a great year I think 2007 has a high target to keep up with and there's only one way to make that happen so on with the show!!
As it is Epiphany today and officially the end of Christmas it seems appropriate that it is also the end of my holidays. Aparet from working Thursday morning this week because I had a trial (and a couple of phone calls from my boss on Thurs/Friday) both H and I have had two whole weeks off but now I have to go back to work as he has to start a whole new job complete with career change and everything so although I kept meaning to post earlier this week I just spent lots of time with him.
Also a little part of me kept thinking "if I don't post just yet then I might have a finished object to show". And this is the almost finished object: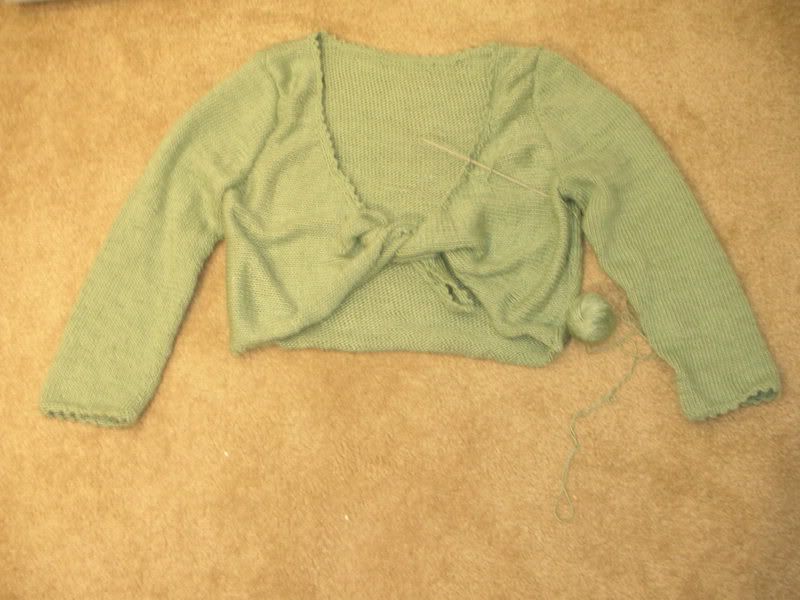 My lovely Sister-in-Law who appreciates the handknitted things in life, and who was the recipient of the mittens I made at the end of last year, succeeded in emulating her brother in choice of appropriate gifts for a knitter – she gave me two Debbie Bliss books and the yarn and needles (including crochet hook) to make the tie-front bolero from Pure Silk. This is a pattern and a colour which I admired when we went to play in John Lewis in Edinburgh in May or June so I was very impressed at the powers of recollection! We arrived at the in-laws late on Friday, I swatched and cast on Friday evening and pretty much knit on it constantly from then on! I finished the actually knitting yesterday and started to get to grips with the instrument of doom – the crochet hook !!
I know from doing this edging that crochet is never going to be a passion with me in the same way that knitting and other crafts are but I haven't found it too hard and with a squint at the pattern, a good read of Debbie Stoller's Happy Hooker, and a bit of a donf I have a very pretty edging that may or may not be quite what Debbie Bliss intended or what the pattern says (actually I can't read the pattern well enough to tell but I have a 4 chain picot on each third stitch so that matches up)
As you might be able to see from the picture I have edged the cuffs, the right front, the neck and part of the left front but I still have to edge the rest of the front and the lower back line so I thought I'd post a picture today while I had the chance – expect finished object status tommorrow but evern 9 days isn't bad going!
If anyone is considering making this top I highly recommend it – the pattern is very well written with no errors and lovely shaping – it has such a nice neckline when I've tried it on – very sweetheart which you don't really get to see in the picures in the book.
New Year's Ambitions
I know lots of people have New Year's resolutions and I think on previous occassions I may even have been one of them but for the last few years I have gone more for goals and ambitions for the year so here are some knitting (and not so knitting related) goals for 2007.
The stash
The first is semi-resolution in that I really would like to make some of the projects that I have earmarked from my stash – apart from Aimee and a blue scarf which are currently on the needles I have stash for Joy from Vintage Style, a whole heap of socks, a lace stole and some blue alpaca to make a sweater (more on that later).
In similar vein I have a number of other projects which I would really like to do in other crafts, mostly cross-stitch, scrapbooking/cardmaking, dress making and quilting, all of which I have the ingredients for in my stashes. I also managed to clear out the last boxes from my parent's house so all my stashes are now as one which makes them scarily large and required a lot of clearing out my study earlier this week (and I still have things in bags and stacked on the floor – more storage is required!!)
To help with this goal I am considering some of the many yarn focus/stashalongs out in the blogosphere but we'll have to see.
I have joined Project Spectrum which Lolly is organising again this year – I really enjoyed it last year and this year has more flexibility in the colours which should help me find projects in the right colour in the right months!
February/March are blue white and grey which at first made me think "what am I going to make – I have a red sweater on my needles (needles which are getting slightly dusty at present!)" but then I have blue sock yarn which was a present from H, a blue lace scarf on the needles, a blue quilting project and a white blouse which I want to make – Feb and March are more than sorted!
Add into that the recurring blue alpaca – this is the only time that I have bought a significant amount of yarn (ie a sweater's worth) without a specific project in mind. I was proposing to knit the Ogee tunic from Knitting Nature but a swift calculation revealed I was about 500 yards short of yarn. Now I can usually squeeze a fair amount out of a yarn specification but 500 yards is a no-win situation. I was happily contemplating how much yarn my proposed waist shaping would save and whether I could get more yarn and just mix the dye lots when salvation appeared in the form of my copy of the Winter Interweave (posted Nov 3, arrived Dec 30) which has a fairly plain sweater with a patterned Raglan shaping at the shoulders and a funnel neck. I have exactly the right weight yarn and exactly the right lenght and the pattern at the shoulders is my favourite River Rapids – could there be a clearer sign!!
The photos
Looking back over my pictures from the last year I realise that I want to learn how to take prettier photos and better photos (although I acknowledge that taking photos in the dark doesn't help) so I've joined or perhaps just decided to do Project 365 – take a picture every day for a year. I've started a little bit late but my plan is to take a photo every day and do a weekly photo post.
Today we have today and yesterday – yesterday I took our Poinsetta outside for some daylight (not that it got much because it was grey (my auto flash kept going off) and windy and it got knocked off the patio table by the wind)
Here is the poinsetta
It is remarkably healthy considering that I've been looking after it although quite a few leaves have fallen off recently – if anyone has any poinsetta care tips please let me know!

This is my alternative shot which I rather like – it's a bit Jack and the Beanstalk.
For today we have my afternoon's activity:
These are the first three blocks of a nine block quilt which will eventually be a cushion cover (the US material on the left is the backing for the cushion). The fabric is a bundle of fat quarters in brushed cotton which I bought when H and I and one of our friends went on a trip to New York and Boston in summer 2005 and I always said I would make a patchwork cushion as a reminder of the trip. I cut the mini squares and triangles for this project last Summer and today they all came out again to remind me how much I enjoy patchwork. The pattern is inspired by a quilt in a copy of McCall's Quilting which was around in April/May 2006 called American Sweetheart and eventually that centre block will have four hearts pointing into it which the blue border starts and stripes going around it.
Run knitter run knitter run run run
My final goal for the year (at last as far as I've thought up so far) is to start running again. I pretty much stopped after my appendicitis because it hurt a lot to start with and then it was cold and dark and I was used to being at home and doing other things (predominantly knitting and cooking and caring for the lovely H)
So the challenge is 100 MILES BY 1 APRIL
I know I used to be able to do that – hey I ran a marathon once (in Edinburgh. With Hills – but that's a whole nother story) but I will also have to ease back into it so I don't damage anything – knees being a particularly favourite weak spot of mine, so it seems like a good target and we'll just see what happens!
Anyway I have yattered on for far too long – FO pictures will follow in due course!
Roll on 2007