Hurray! At least when I say finished I mean that everything I meant to complete for Christmas is complete but it is entirely possible that a little something extra has snuck onto the needles – more on that later.
Well… it seems ages since I last updated the blog and I seem to have tried to put in an update several times and completely failed. My excuse can only be a severe lack of time at home and a lot of time at work or on work trips.
However, as of 3pm this afternoon the office closed for Christmas and I am on holiday until 8 Jan (apart from a small trip into the office for a hearing on 4th Jan) Yipeeeeeeee – it's Christmas!!!
So what of the knitting; Aimee is still very much on the needles and we are still at the back stage. I love this sweater and I think the fabric is turning out very pretty but I've had the bug for simple brain-free knitting recently to make sure I unwind. My bag for the mitten kit is now finished (although still unlined) and now has some contents so all I need before January is the pattern – which leads me on to my latest project….
(the front)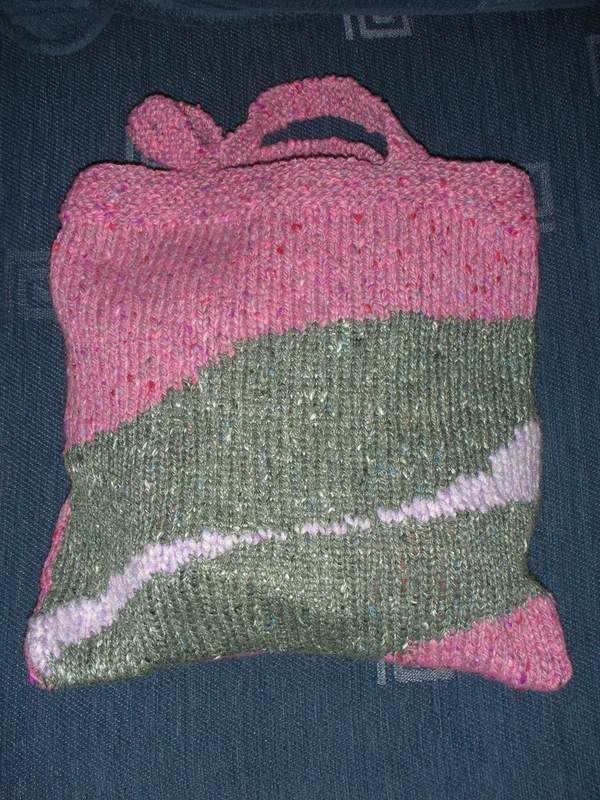 (the back)
I have not knit any mittens before although there may be a very bad pair of gloves somewhere in my very distant past but when I frogged the disaster sock back in April/May time I was left with two balls of red Debbie Bliss merino Aran and two balls of a blue/purple. Cue Knitty's Fetchings in the lovely red.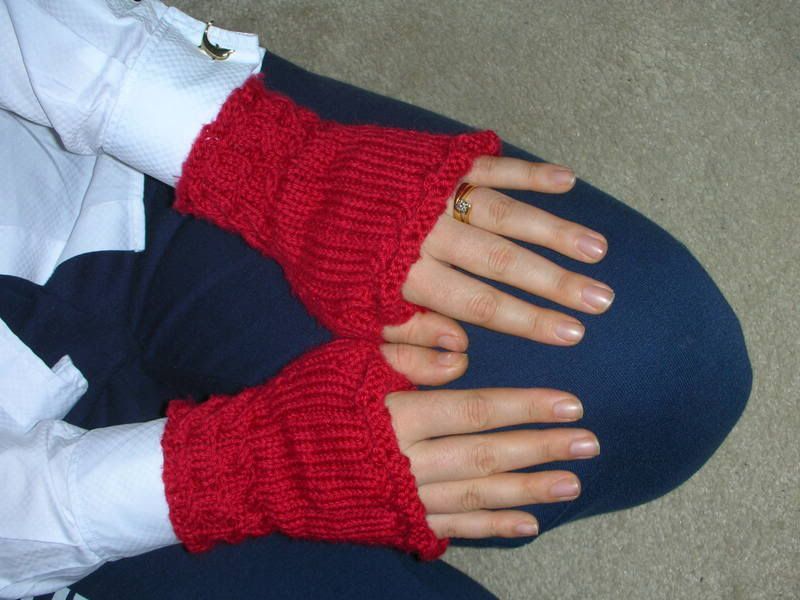 I started these in the car on the way to visit my parents in Devon (from Warwickshire that's a good 3.5/4 hour drive), knit a bit more at my parents house and finished the pair on Sunday night back home – instant weekend knitting and I love them – they are hugely useful for knitting on the train and keeping my wrists warm when I need to use my fingers. All this fun led me to thinking about mittens and mitten patterns as I clearly need a pattern to send with the mitten kit and nothing I have seen on the internet really seems to suit my swap – so I designed my own.
This is what they looked like the first time I took a picture to post,


and this is what they look like now although they will grow a fair bit further before I'm finished tonight!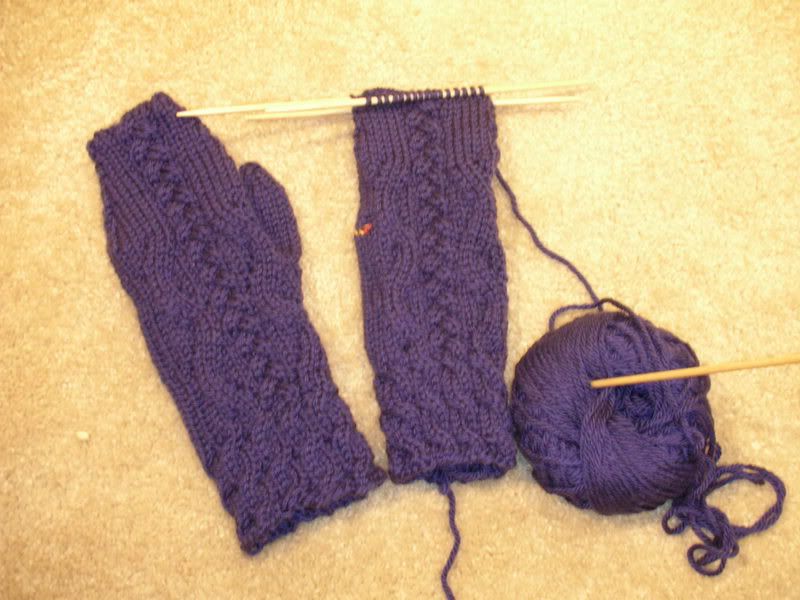 These precise mittens are to be an extra Christmas present to someone who is not so far getting anything knitted and who I know appreciates hand knits. It is not somone who reads the blog as far as I am aware so I think I'm pretty safe posting pictures! I will now write up the pattern and make a pretty pattern sheet for my swap so these mittens will be unnamed for a little while!
Final batch of Christmas shopping tomorrow so I must head off to prepare for it.
In the spirit of Christmas please check out the Yarn Harlot's Christmas Challenge to raise money for MCF through TCF – we're very nearly at the target total!
Happy knitting one and all!