Well everyone else got some….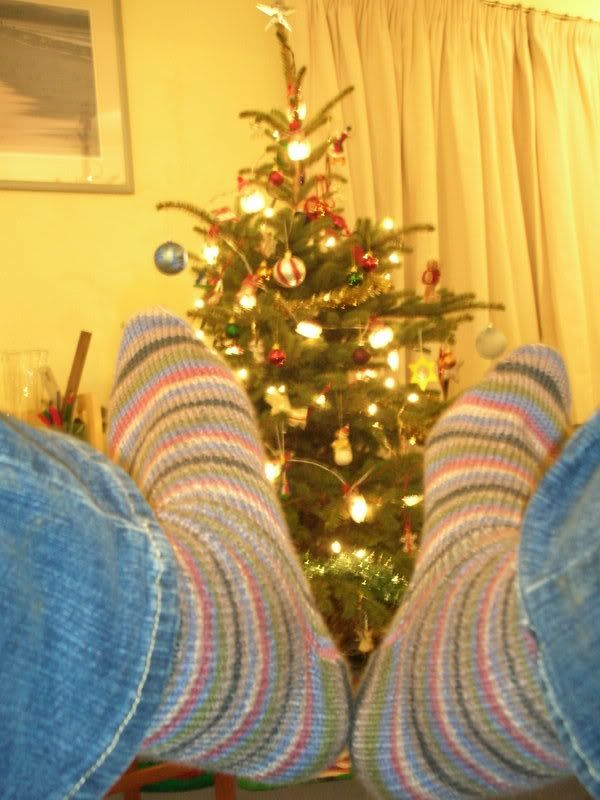 Mine are Regia Silk/Wool mix in just the very simple sock pattern on 60 stitches to show off the stripes. I started them late on Christmas day for some TV knitting while we were watching a film and also to show off a little present from Father Christmas – stitch holders which scoop up all the ends of your DPNs while in transit so you don't loose stitches off the needles when your station arrives before you're really ready for it and you have to throw your knitting in a bag in a hurry (not that that ever happens to me of course!!)
In other finished items, remember my KMKS pal's bag? I lined it this afternoon and here it is in all it's glory and TWO inside pockets for stitch markers and other things that get a little lost.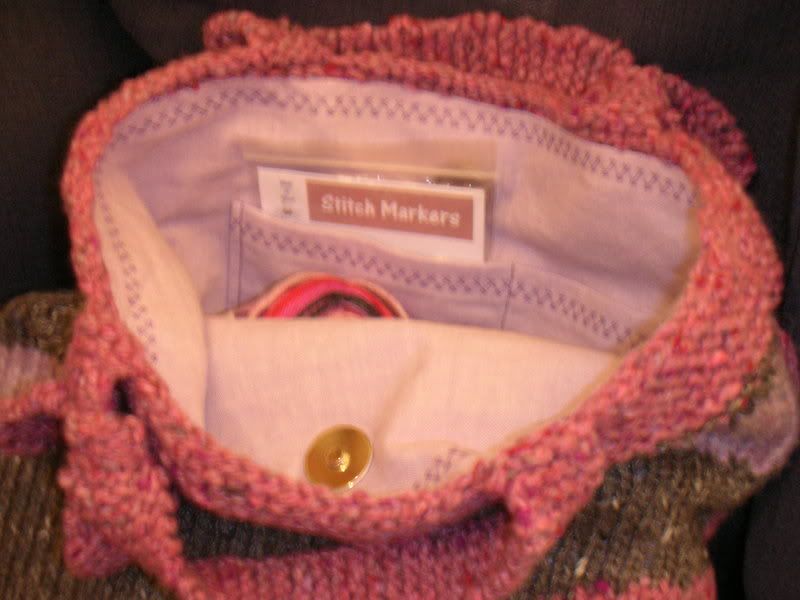 I'm really pleased with the way it turned out and the embroidery edging stitching looks really pretty (much nicer than the slightly blurry zigzag you can see in the picture!)
I've also had the time to write up the pattern for the mittens this week so I just need a couple of odds and ends and then I'm ready to put the packet in the post – I was a little concerned that there could be no chocolate because of USA customs laws but a quick check assures me that all is well – Mitten pal your calorie consumption is safe with me!!
A couple of other things have sparked my attention recently which I just have to share; first is the fantastic news that the Yarn Harlot's "Double the MSF donation" challenge only took 73 hours 36 minutes – that's pretty cool
The second is this – the perfect combination of law and knitting – what more could you ask for.
Father Christmas was very good to me this year and my lovely H bought me a number of knitting books all of which have loads of patterns I want to knit – most especially Norah Gaughan's Knitting Nature and Fiona Ellis' Inspired Cable Knits – which leaves me with the question, is it really wrong to start another sweater if I haven't finished Aimee – no I'm sure it can't be – maybe I can justify it on the basis that Aimee is a summer sweater and the proposed project (the Ogee tunic is more of a spring kind of thing) – girl logic will proove anything
Happy Knitting to all and to all a good night!