For a quick little update on knitting in progress in the home of the bear.
Headlines:
1, Carie survives to last 111 sock warriors
2, Greek IK sweater meets finish post – and kitten!
3, Mitts and another challenge
4, Look 2 hands!
Hmm, (1) well I am in the last 111 sock warriors – not really quite sure how I achieved that as I have knit very few socks in this war perhaps I am just benefitting from unintentional strategic planning and the UK/US postal service. The socks of doom should arrive with Purla Hari hopefully later this week and then we will all try to figure out who should be sending socks to me.
I really liked the concept of this war but I think it has outgrown its concept and the length of time things take to travel the globe has made this more akin to the 100 years war rather than a short skirmish. There are various solutions being suggested for a next time but I might choose my battles. With fewer numbers or a set of initialy stages that stayed within the same country/continent I might have done more knitting at the very least!
Girl with cat wearing Ik greek sweater – Girl with kitten wearing IK greek sweater.
Apart from the sideways thing mine does not have ruffles and I have no plans to add the ruffles. The pattern is from last autumn's IK and the only amendments were to choose glacier for the colour insteat of lavender ice and to add 1 inch to the body and 1 1/2 inches to each sleeve – it's just the right length now.
I would show you a picture of the finished article blocked (because it needs it) and I did plan to do some blocking tonight but alas I finished it yesterday afternoon, I put it on and I've worn it ever since apart from a brief sojourn in my PJs and to work. This sweater has a gorgeous neckline, it made out of lovely soft cushy fibre and was one of the quickest knit sweaters I have – success all round. For anyone wondering I used 5 1/3 of the 6 balls called for and could probably have just used 5 if I hadn't added the extra length.
Also my thanks to my somewhat unwilling model Poppy (seen here in a preferred circumstance):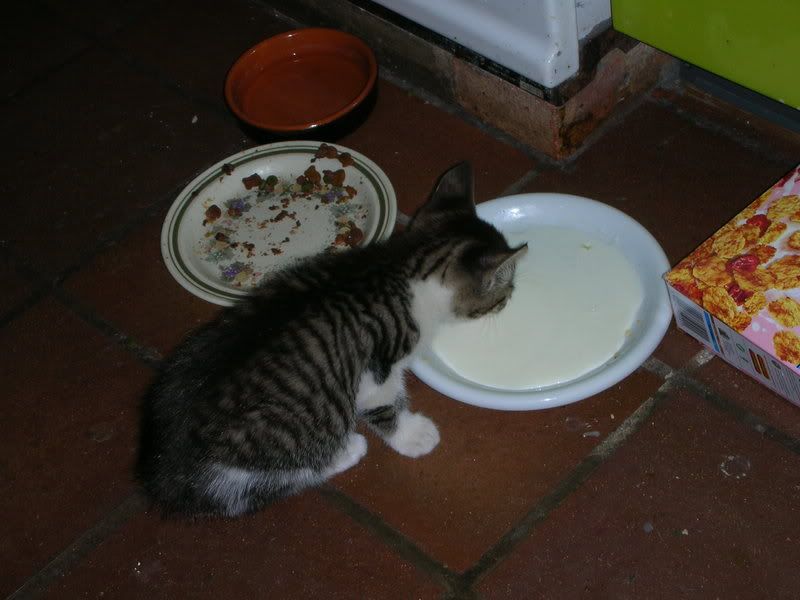 She's very cute and still in the slightly springy surprised stage of kittenhood!
All this leads me on to news item (3) my new challenges:
Inspired by the speed of the IK Greek sweater the knitter has been lulled into a false sense of security and when she saw this linked from a number of posts NaNoSweMo
What is it I hear you cry?
It's knit a sweater in November and my sweater of choice is Aimee from Vintage Style – I've cast on and knit 10 rows of the back and I'm kind of ignoring the fact that this sweater knits on 3 3/4 and 4.5 needles and therefore might take longer than the IK greek but hey a challenge is a challenge. Unfortunately this particular challenge has been somewhat thwarted by a currently lack of 3 3/4 needles and Anna wasn't open on Sunday morning when we did a fly by to try to pick some up – fortunately tomorrow night should solve that problem.
There is also a little bit of two birds one warm fleecy KSH sweater – it's that favourite colour of mine and so I am also now applied to join the Red Sweater KAL for the celebration of colour and general red things all round! Yippee
Also in my joining spree …..
KMKS – another confusing one. A little while ago there was a KSKS (Knit Sock Kit Swap) which I thought was a lovely idea – you make a little project bag, put a sock knitting kit of your own compilation into the bag and send it off to your secret pal). Well this time it's mittens – I've never knit mittens but my hands are cold enough recent mornings to make me think it might be a good idea so yay a swap for me!
(4) I wanted to tell you all about Saturday's workshop but I think I might save that for another day so for now here are our bonfire night fireworks!!