My updates here appear to be few and far between at the moment. I am making progress on various projects, none of which can be shared here just yet and my NaNoSweMo may turn into a NaNoSweBack if I'm lucky – more progress required but I'm almost at the arm holes.
That sweater is also my Red Sweater KAL and I was lucky enough to win one of Anne's red letter day prizes – in my case a copy of any one of her patterns and I chose her Casino shawl – perhaps to make in red!
But…… two little figures have appeared on the scene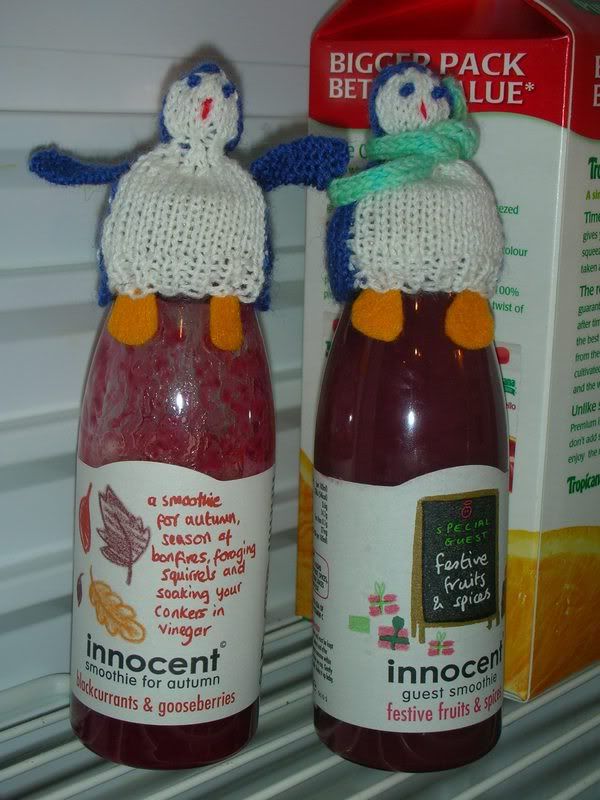 Innocent Drinks are running a charity fundraiser over the christmas period and they are selling their bottled drinks in Sainsbury's and EAT with little bobble hats on and if you buy a drink with a hat on they give 50p to Shelter. On Friday one of my colleagues came back from lunch with two of these knitted hat drinks and we had great fun putting them on the hat stand at work and then putting them on our dictaphones (it makes the dictaphone have a face). We also looked at all the pictures on Innocent's website where they also have the pattern and people have made Halloween characters, Father Christmases and Angels but no penguins. L and I have a bit of a think about penguins and so she issued a challenge – could I make a penguin bottle hat.
Never one to take a challenge lightly I spent the train journey home plotting how a penguin could work with a head instead of a bobble and even making a prototype penguin head out of some pale green yarn in my knitting bag. Finally two days later we have a penguin each ( Ping and Ooh!) – I just have to see what L thinks tomorrow morning and in the meantime they are happily residing in the fridge!