well ta da! Round two of the Socks of Doom are complete: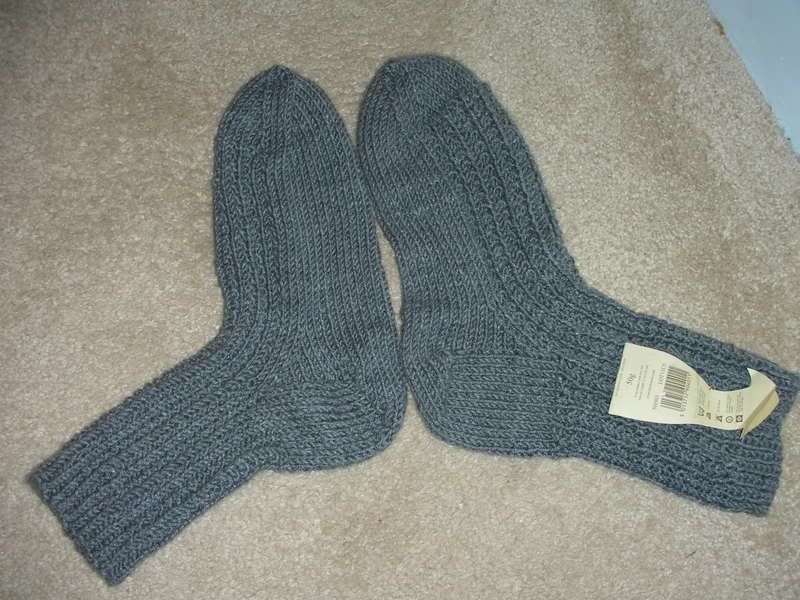 The yarn is Rowan Wool Cotton which I've never knit with before and is very soft and snuggly – I hope it makes good socks and doesn't wear out too soon.
Now all I need is the address for assassin Purla Hari – the weapon is armed and waiting for the post!
I'm trying to work out how many people must have worked on these socks – I know they aren't my target's first target socks and P is a good way down the alphabet from both of our e-mail addresses so it could be quite a few.
I should add that there has been a small contribution to these socks from my lovely husband. Last night coming home on the train I was knitting away as usual without really noticing the boy watching me quite intently. Then gently a little hand came across and took the yarn out of my hand and wrapped it round the needles. We kept going like this for some time, me moving the needles and the boy moving the yarn. All went well until I finished working across the bottom of the foot (st st) and needed to Rib of Doom across the top. First three stitches were knit and all was well. Then I put the needles in to purl and was met with a blank expression! He gamely tried a number of different methods of wrapping to purl without any coaching from me but eventually the yarn was handed back. Lovely husband later reported that he had been watching for some time but he just couldn't figure out the patterned bit because I went too fast. So perhaps if I start knitting really slowly in front of him I might just draw him in – what do you think? Boy if you read this you can comment too!
The possibility that the lovely husband reads this blog on the sly is the reason why perhaps some of my current projects need to stay under wraps for the moment. However, I am making good progress on my IK Greek sweater – I love the way the yarn knits up so softly and it is beautifully warm even when just spread over my knees. The only problem I have is that the Kid Classic can be a little splitty at times but perhaps that's just me. That and jumping from sock needles to 5mm and back requires a bit of getting used to!
Anyway happy knitting one and all