And sad to say I've been no-where – I just can't believe how long it's been since I last posted. My only defence is a very busy week followed by a busy weekend. Anyway time for a little update…
What's off my needles?
Ta da!

A finally finished Smoulder (finished just before I had to change it as my computer password at work) with buttons:

I love the buttons they remind me of the little black pebbles and bits of slate you pick up at the beach to skim with and they fit the very geometric design and stop it being either twee or little stripy child.
The pattern is Rowan's Smoulder from Book 31 I think in the original colours which as half of them have been discontinued is somewhat of an achievement. Followers of this blog will know that the yarn for this cardigan came from Birmingham, The Netherlands, the US and Shipston – it's quite a combination! It is a real pleasure to knit and I loved the colour changes (the ends were a knot in the yarn though to be honest). It will be a while before I do stripes again although I still love fairisle type colour work so perhaps not!
There have also been various secret projects on and off the needles which for the moment will remain under wraps.
What's on the needles?

Well the IK Trellis scarf still gets a bit of attention occasionally although it has been neglected recently. Perhaps now it is colder I'll feel more like a KSH scarf. For the moment my Drizzle scarf is doing me proud!
The IK Greek sweater has also reappeared from the basket now that Smoulder is finished and I've cast on for the back. It's strange to knit with 5mm needles after all the small needles for Smoulder but it does make it grow a bit faster.
And….
Socks of Doom (Round Two ding ding)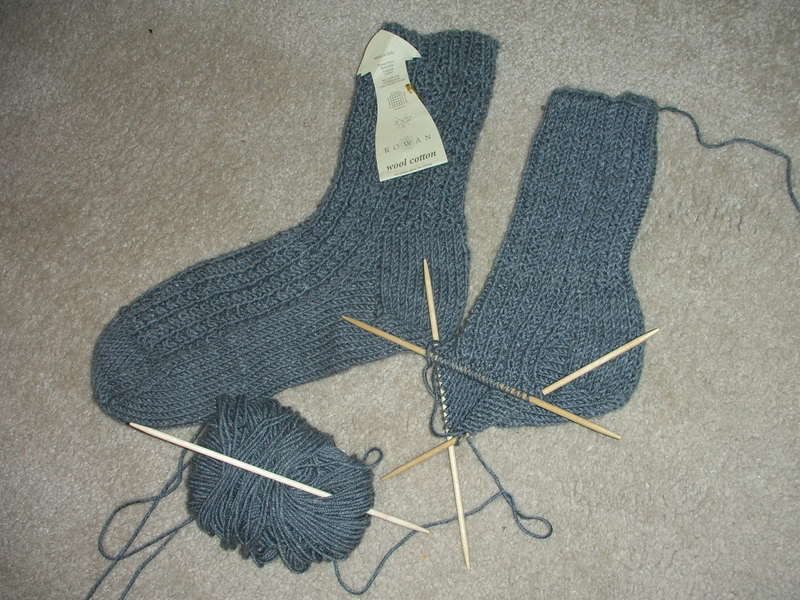 Yes they arrived in the post this morning. I'm not entirely sure who knit them apart from Karen (my target) but they are for Purla Hari who is some way down the list from us so they've been around a bit. Funny that having come all the way from the States they're in Rowan wool cotton!! Coals to Newcastle perhaps.
Anyway I took them on the train this morning and turned the heel and did the arch shaping on the way in and they won't take long to finish now. All I need is a target address! And still I'm not dead – yippee but with cold feet!
Other Random info

Look, pretty cakes from Sunday… St Clements cake and Clotted Cream Cheesecake – now sadly diminshed!

Also Interweave knits arrived this morning and it's fabulous as always -yippee!
Now must go knit like the wind for Round 2 socks!