So finally August is over and Project Spectrum has drawn to a close (apart from sweep up month this is a really good idea and very necessary to boot!).
I have loved being a part of this Craftalong and I've really enjoyed the postcard swap – so often I make cards for birthdays or thank yous and it's really nice to be challenged to make something without a pre-ordained theme (apart from the preference for butterflies) and in colours that I wouldn't necessarily use.
So for the final time I present to you this month's Project Spectrum postcard:
This is the front and back before they got stuck together – I should explain the backing paper is a picture of stamped letters!
Aside from Sweep up month Lolly is planning another form of Project Spectrum towards the start of next year and is collecting ideas – if you have any pass them on to her!
All this brings me onto the topic of knit alongs. I seem to have got rather swept up in KALs recently as I have another to add to the collection – Yarn Monkey is running a KAL/assasins game called SOCK WARS – if you ever played assasins at college the concept will be pretty familiar – on 22 September each warrior gets the set sock pattern and their victim's address. The aim is to knit them their socks and send it to them. When they get the socks they are dead and they send you their unfinished socks and the name of their victim. At the same time, someone else is knitting you a pair of socks to try to assasinate you – it sounds hilarious to me and I couldn't resist joining in – thank you Manda for mentioning the Wars in your podcast!
There always seem to be unlimited KALs starting up on the web and I suppose it is merely an extension of knitters getting together in person to knit that instead we all meet up in webland!
The problem is that I get tempted by so many and if I had all the time/money/yarn I wanted I probably would join them all. I am however, particularly tempted by the Sexy Knitters Club KAL which is currently either Sizzle or the Simple Knitted Bodice – both of which are gorgeous. I think I am heading towards the Simple Knitted Bodice – to use the blue alpaca I have for the short sleeved version. I though I could also add in a strand of somthing like Kid Silk Night for a bit of sparkle at the bits where the pattern calls for sequinned yarn – hmmmm
In terms of actual knitting, Smoulder is making remarkable progress comme ca:
The colours are a little distorted because it is an evening shot but I have completed the back, both fronts and a very little bit of the sleeve. This is where I stop and start kicking myself. I made huge efforts to get the yarn called for in this pattern – some of it comes from the Netherlands, some from a clearance department store and some was found in Shipston. However, I got only one ball of the deep purple cotton glace and I need two – gaaaaaaa it's a discontinued colour, impossible to find in the UK as far as I can see and my hope now rest on a webmail service from the states who had one ball left according to their website. As I haven't heard that they don't have any and it's been a week since my order I'm really hopeing this means it is winging its way to me – fingers crossed.
My yarn moratorium (now ended) means that there is very little knitting on the needles that I can just pick up and go with so my current knitting is the IK Trellis scarf which was in the issue of IK that lovely husband bought me when I was in hospital in Florida. It involves knit 7 together into 5s which frankly scares the living daylights out of me and is not relaxing knitting, requiring immense amounts of concentration to get even one row right. I think it may have got easier by the 23rd repetition!!
This is the border and almost 2 repetitions!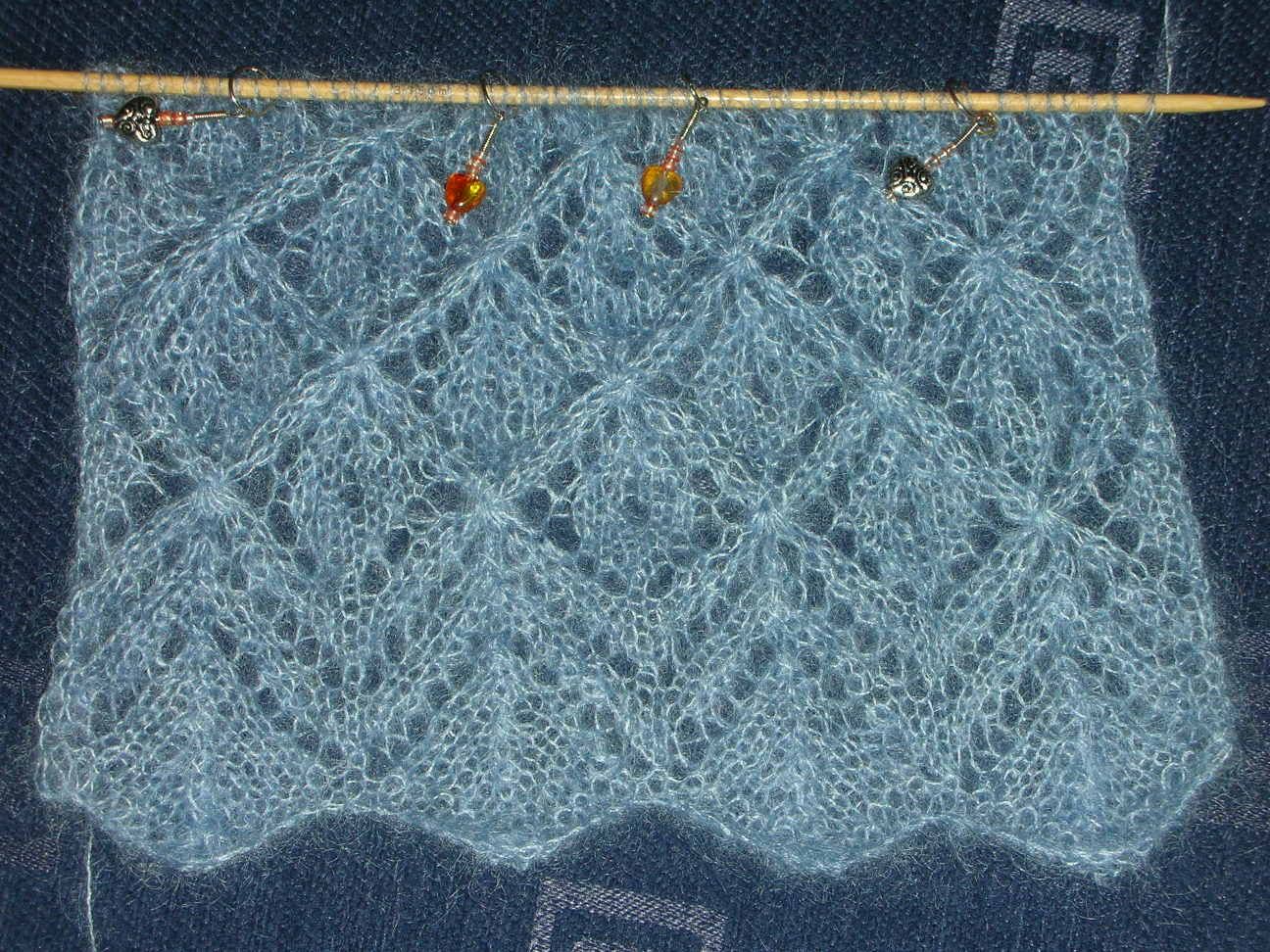 It's Kid Silk Haze which is very snuggly but a bit of a challenge to knit with to say the least! Still perseverence will win through and there are days when challenging knitting is required. That would not be today though so I have put it aside to write this post before I make any more mistakes!
Sneeky side note: I do have a pair of socks on the needles as a secret present for lovely husband but they are hiding in my work bag for train knitting only (shh!). I have also ordered the yarn for my Greek IK sweater in Glacier (Kid Classic – gorgeous) and the Yorkshire Tweed needs some bead threading before starting Rowan's Joy. I know I could start Joy now but I've been longing to knit the Greek sweater for ages so that's what I'm doing!
Happy weekend one and all!