If you are (a) my husband or (b) think you may be my Summer of Socks pal but haven't yet got your parcel look away now.
I haven't posted in a while because of a serious lack of exciting things to share with you – the last two FOs have both had to stay secret (until now!), the colour I need to finish Smoulder is hopefully winging it's way across the Atlantic and the trellis scarf now looks like this – I assure you that huge lack of progress took HOURS!!
However….
As my husband is due home from his mountain in Wales very soon (actually he's just arrived) and my parcel to the secret pal was sent on Monday I think I am safe to share some piccies!
So, these are my latest secret project – another pair of socks for my lovely husband – the pattern is just a basic sock pattern with a 2×2 rib at the top and the yarn is Regia Canadian: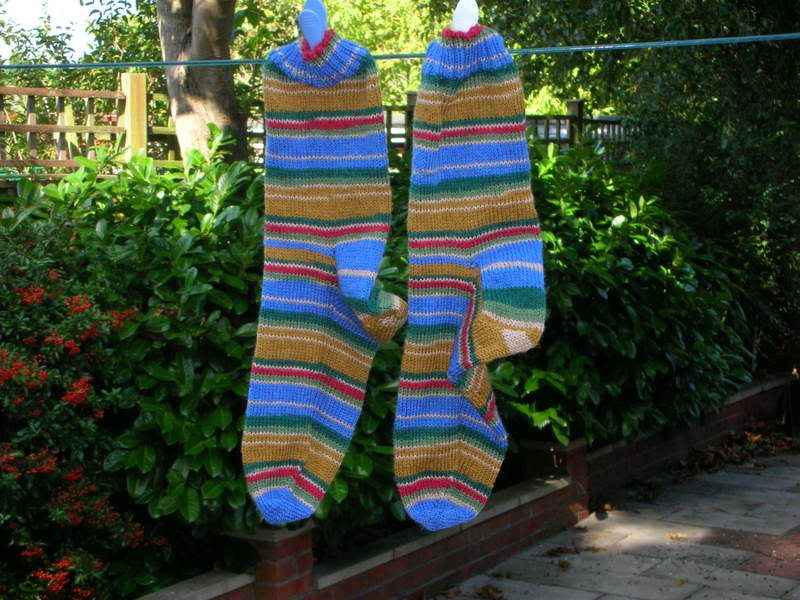 The lovely husband likes them a lot and as his feet are rather sore after the Welsh mountain trip (he walked/ran 27 miles yesterday) I thought it would be rather good for the feet to have a little treat! I've been knitting them secretly on the train to work but most of the second sock was done yesterday and finished last night – excellent tv knitting!
The secret summer socks look like this:
Well kind of – they really aren't so blue in real life they're a pinky purply blue mixture which produces some gorgeous pooling – it looks like they have ripples running across them. The yarn is Regia Bamboo which is a mixture of wool and bamboo and it very soft and silky to work with- it's like a more drapy cotton. The pattern was an adaption of Dublin Bay – I put the Dublin Bay motif repeats down the side of my standard sock pattern and all was well – the first version, following the pattern, gave me massive socks so I restarted.
These socks have also been travelling round with me and so I give you "the sock and Warwick Castle"
It was at this point that my husband decided that sanity had clearly left me and this sock knitting thing was getting a bit too much!
Hope you like them secret pal – I won't reveal her name until I know the parcel has arrived safe and sound!
As this weekend has been gorgeous I took the opportunity to dye up my final blank skein of sock wool with the remaining Kool-Aid et voila!
It looks a lot less neon and more summer berries in real life – perhaps that's what I should call it – summer berries to go with lettuce leaf and blueberry bruise! Any other suggestions for what this colourway should be called?
So now with the summer berries yarn drying in the breeze, the husband gently reviving in the bath, and a good five hours worth of ironing sat upstairs…. I'm going to go and cast on for Joy!