Happy Sunday! I went to the Knitting and Stitching show at the NEC and it was quite a show. Apart from the shopping (more on that later) they had just wonderful textile displays including some gorgeous quilted seascapes and a lady who has done a series of full size quilted sketches. Essentially she paints the figure on calico and then adds fabric and embroidery on top to accent bits.. The ones I liked best were people she had sketched at train stations and they were all lined up along a platform – so how a platform looks any day of the working week!
The other ones I loved were the seascapes – I love the fact that when you look closely at them there's a whole other level, for example one of the big shorelines had a load of building silhouetes which were quilted out of either marine chart fabric or marine charts printed onto fabric – so cool!
The knitwear companies also had various fashion shows going on during the day but I wasn't bothered to see them as my "to knit" list goes on for pages!so did just the one workshop whereas at previous shows I do loads. Part of it was sheer 'I'm shattered can I really concentrate for lots' and part of it lack of planning!
Anyway my last minute workshop selection was the Beading Guild's wire brooches workshop and we made this: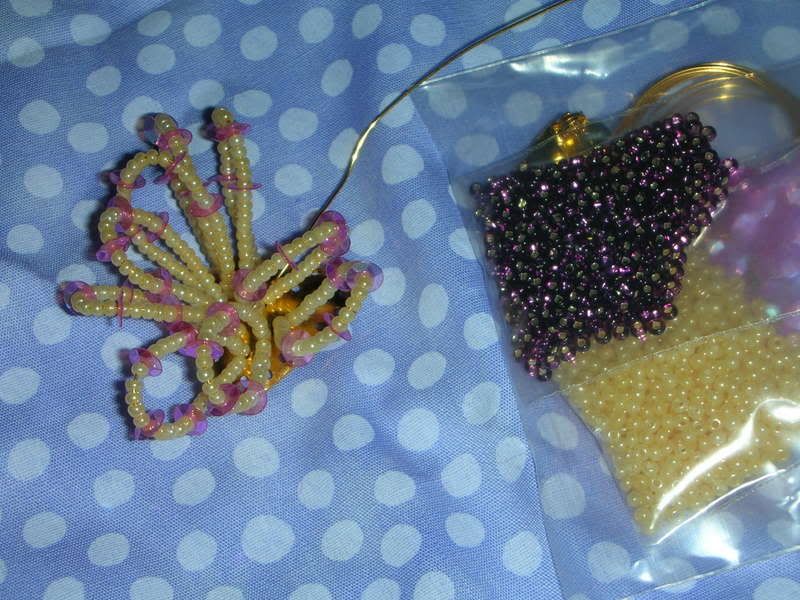 This is my part finished brooch – it will eventually have a completed round of cream and another round of cream and pink alternating to be a big flower type thing. It looks far more cream and less mustard in real life I promise!
The beading is just as calming and knitting and it took a lot of willpower for me not to acquire some more wire, beads and sieves to try making my own brooches but I resisted (and gave in to a little kit for beaded snow angels – seriously pretty and perfect for the Christmas tree – is it worrying that I'm thinking about Christmas or just organised?
And then we have the shopping:
Hmmmmmm sock yarn. Including the lovely Lorna's Laces Shepherd Sock – I really start to see why the Americans rant about this stuff – it is gorgeous and so soft – definitely socks for me! The other skeins in the left hand picture are Opal handdye and some hand painted yarn and on the right we have my colour choice for the socks of death! Roll on sock wars!
A few other little things also crept into my bag along the way including two more balls of KSH for Aimee and the needles for my Greek IK sweater – I'm off to cast on right now!