Back in March, in search of somewhere to put the children for a Siblings photo shoot I tucked them all into the big saucer swing at the park; Kitty very much the photographer's assistant – "hold onto your brother and let's hope your sister doesn't move".
Pip looked so teeny tiny tucked up in the middle of his sisters, and Elma didn't seem much bigger, but they were thrilled to be together, gently swinging in the sunshine.
Roll on eight months and we found ourselves back at the same park and the same swing and wow what a difference those months have made.
It's not just Pip, who frankly looks like he's doubled, but I can see the changes so clearly in Elma and Kitty too.  They all still love the saucer swing and now that the chances of one of them (Elma or Pip, take your pick) suddenly deciding to stand up and leap off are less, they can all go a little bit faster too.  Great fun for them, more of a challenge for photos!
And all that growing means that so much more of the playpark has opened up to them too.  Kitty has nailed the fireman's pole and seems to be able to climb just about anything, Elma is determined to go on each and every roundabout or even anything that might be a roundabout, and my once tiny, couldn't sit up yet baby Pip Squeak is a determined but wobbly toddler who is quite certain he's not going to get left behind and would give Edmund Hilary a run for his money.
Which would be how they all ended up like this:
("Elma? What is our sister doing?")
I've always said that my photography style is 'perfectly imperfect' and these are a perfect example of the made up genre.  But it's a genre I love, not just because it's the only sort of photos I can take, but because I think it brings my little trio's personalities to the fore and tells the story of their relationship in a way that would never come across in a formal studio portrait.
Every month their friendship as a three gets stronger and stronger as Pip also gets stronger and stronger and it's lovely to see them truly share their fun, even if it's just sitting on the lounge floor building block towers.  I love that in these saucer swing photos all three of them are clearly loving it, and they speak of the sweetness and the almost maternal sisterly affection that Kitty and Elma have for Pip.  They love that he's starting to walk and for every time I stand him up against the furniture and call him to walk to me just to see him do it, Kitty and Elma will be trying to persuade him to totter between them.  It's quite unbelievably cute.
And then the pictures in the weird roundabout dish (what is that supposed to be, does anyone know?). I can see in the way that Pip is looking to Elma for explanation and reassurance, the cementing of their friendship as something separate to Kitty, built up as they spend so much time together without their big sister.
But mostly, I see their smiles.
Two little sisters, and their brother too, in November:
I wrote most of this post on the train home on Friday night and then sat with H, shocked and dismayed to see the news from Paris, a city we love so much once again torn up by terror and grief and it suddenly seemed so very trivial to be writing about children in a play park. Except that it's not, they are my joy that balances the sadness and the reason to keep striving for peace, so that maybe, just maybe, we can leave them a legacy of a world where no one is trying to hold us ransom with fear.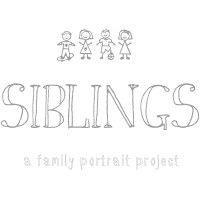 This month I'm sending you on to the lovely Amber. Her adorable twins are actually a whole year old now and as the boys only seem to get cuter and cuter I can't wait to see her beautiful photos. And so now it's your turn; how have your Siblings been this month?