At the start of this month, and knowing that we were going to be away for a good chunk of the month I had every intention that my Siblings pictures should come to you by magical whiz trickery and the power of the telephone from, well not exactly a far flung corner of the world because we're talking Western Europe here, but certainly somewhere a little more exotic than my back garden.  I wanted the picture to be special; these are the pictures from this last summer with three preschoolers, and the pictures that complete a year of siblings photos as a three.  In my mind there were mountains as a backdrop or maybe a lake or something to really set them apart.  But then I took these photos and I knew even as I was looking through the camera that they were the pictures that I wanted to show you.
It was a Saturday afternoon, just hanging out in the garden; we'd made a tent out of a sheet and some duvet covers, played ice creams in it, read stories and the girls had pottered around in it while Pip and I hung out the laundry.  And then he got a bit bored with chewing pegs and crawled leisurely off to the other end of the garden to find his Kitty.
(I love this photo so much – I'm thinking of putting it into black and white and printing it)
Which is where I found them, Kitty sat enthusiastically rolling, and sometimes chucking, the ball back and forth with Pip.  He adores her, properly properly loves every minute he gets of Kitty's attention and so he sat their giggling fit to burst and trying to work out what to do with the ball.  And Elma heard the noise and came running out to join in; and then there were three.
When I was pregnant with Pip I tried to imagine what life would look like with three little ones.  I'm the eldest of two, where H is the middle of three so he knows what a three looks and feels like, how the different relationships play out, but I didn't have a clue.  So naturally my mind was happy to skip gaily over thoughts of sibling rivalry and fights and, whatever else you get more of when they're teenagers, I don't know, I haven't got there yet.  Instead I would imagine the three of them playing together, maybe running on ahead of us on a Sunday afternoon walk, always being there for each other, and putting each other first (pregnant women are allowed unrealistic daydreaming, it's how we pass the time between weeks 40 and 42!).
And I know, at least the sensible grown up mother of three version of me knows, that that relationship was by no means guaranteed.  They might have all hated each other, or just been so very different that the closest they got to one another was a sort of polite curiosity.  And even if they were going to be friends, it's hard to be friends with a baby when you're two or four, they just don't do that much.
But just in these last few weeks the girls have noticed that Pip has got bigger, and it's changed their relationship to the point where all three will play together at once.  Kitty and Pip were more than happy for Elma to join them and the girls seemed to have so much fun clucking over Pip, while he in his turn lapped up the attention.  And I finished pegging out the laundry and went to get the camera to record my daydream being played out in reality.
They're also the last photos in the Siblings project before Kitty goes to school, and it seems that just as we complete a whole year with Pip in the mix, the mix is changing again.  I don't know what the start of school will do to their interaction as a trio.  I'd love to hope that it would do absolutely nothing but I think I shall be surprised if that's the case; Pip and Elma are going to be spending so much more time together and Kitty will spend more time away from her family than she's ever done before.
Kitty is Elma's hero and I wonder how she will do without her big sister to look up to, and Elma and Pip's bond is only going to grow stronger.
But that's all speculation and for the time to come.  For now, I simply want to celebrate two little sisters and a brother too, in August: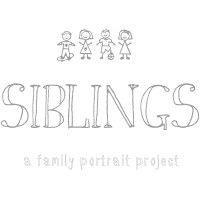 This month I'm sending you to the lovely Lucy who needs no introduction. She's counting down the photos until her siblings are also a three and I remember that phase so well and I treasure those pictures. I can't wait to see her pictures this month