In the rhythm of our days, summer Saturdays mean two things.  First, the anxious checking of the weather forecast in the morning, and in the afternoon, cricket.
H disappears just after lunch lugging his kit bag behind him and we come down to the club after lunch.  We'll make camp on the lawn between the pavilion and the pitch; quilts, books, teddies and anything else the girls have decided to bring with us.  If H is batting first then he'll usually be with us for most of the innings (his playing style is slog it!), and if they're fielding we sit and watch.
Oh course, the attention span of a four, two or ten month old isn't huge and when they can't work out where Daddy has got to, they'll run around in circles, Pip chasing as fast as he can crawl after them.
There's enough room to play throwing, or scamper about, and they're well known enough that some of the senior members of the club sneak them chocolate biscuits.
These pictures were taken on Saturday; H scored a magnificent 12 off 9 balls contributing to a rare team win, and although it wasn't the hottest of days, the children were happy and content.
I love how easy all three are around each other, Kitty and Elma know Pip is there but there isn't the intent and rather hands on fascination of the early days, he holds his own now.  No longer a novelty, he's just their brother.  They still adore him, don't get me wrong, they sing to him and tickle him and try to make him smile and bring him toys and all the rest, but I think that with his crawling, and now pulling to stand, he's moved in their subconscious from 'rather cute interactive teddy-baby' to an actual person, who while cute, also has the potential to eat your lego if you leave it on the floor.
This is my little trio at its most relaxed; they're each doing their own thing, Pip unpacking my handbag (again), Kitty pouring over the Legoland map that she found in the car, trying to remember all the places we'd been to, before scampering off to get her wriggles out while Elma moved on to map appreciation, and Pip eyed me suspiciously, hoping that I wouldn't notice that he has his hand on the car keys, and then tried to distract me by staring intently at the scorer's box.
I think these are the first properly candid pictures I have of my three and as my photographic style, such as it is, has always been heavily weighted towards the imperfect perfect, that makes them very special.
Two little sisters, and a brother too, in July.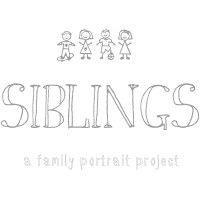 This month I'm sending you to
Katie
, a lady who clearly needs no introduction.  Her pictures are always stunning (I'm rather hoping they might be from one of her recent holidays) and with two girls of my own of very similar ages it's lovely to watch her little ladies growing up.  And now it's your turn to link up – what have your siblings been up to this month?