As we get further and further along this path of parenting three children I'm starting to realise just how different for the children it is being a part of a three, rather than a two.  I'm the eldest of two sisters, and when there are just two of you there's one sibling relationship, and that's it.  Where we grew up was fairly rural and as we didn't go to school in the area and our parents' friends didn't have many children of similar ages we were by and large each other's chief companions through childhood and into the teenage years.  It is I suspect at least part of the reason why we are so close now, we have a lot of shared history to fall back on, and why we would always make up again after a childhood falling out, we needed each other for company.  Because when you're a two you're either friends or not friends, you have a companion, or your on your own.
But a trio is so much more complex.  All of this is old hat to H who is the middle of three siblings, but it's been really interesting watching the different relationships come to life as Pip gets bigger.  And it's not just that they have something between them that is entirely outside of me (which I love), but Kitty has her relationship with Elma, and then one with Pip, and Elma and Pip have their own thing, and then you have the three of them together.
Kitty and Elma have a very familiar sisterly relationship, Kitty can lead and Elma follow, if she wants to, and sometimes I'll find Elma cornering her sister with threats of Rapunzel-esque hair brushing, other times the squeals are from Elma because Kitty is roaring at her, and most of the time the soundtrack to my days is their happy conversation.  This morning they were playing aeroplanes on the sofa so we had lots of 'packing' and 'steering' while I was cleaning the kitchen floor, and then when they wanted to come and join me and I enquired about the progress of their flight they told me it was on auto-pilot.  They are happy right up until the point that they're not and then they both need to spend a little time apart before they can make up and move on.
And where Pip is concerned, Kitty is the best big sister bar none.  She's responsible enough that I'll happily ask her to hold him and stop him escaping if we're in the garden and the front door bell rings, or Elma shouts for assistance, and that generally means that she'll give him enormous cuddles and call him "my little darling" until I get back.  He adores her, he will giggle if she tickles his tummy and frequently makes a bid to grab her hair. She's strong enough to cart him around too and I do sometimes find them both in surprising places – like Pip at the top of our garden slide (!!!) – but she had him by both hands and he slid down with the biggest smile ever so I think thanks to his biggest sister we've just found him a new toy.
Pip and Elma are still rather in their own little bubbles, they are aware of each other of course, although sometimes that's rather in the sense of aware that the other one has Mama and they want Mama. Or more accurately they both want milk.  And my sweet little Elma tends to be the one asked to wait, which might explain why she's so very very keen on Daddy at the moment.  But while they are still finding their way there is always one moment of utter sweetness.  When they're both nursing at the same time I'll often find they've found each other's hands, or Pip is stroking Elma's hair and it's so adorable.  And of course completely impossible to photograph.  I'm quite determined that before Elma weans I get a photo of all of us nursing but that one will definitely not be going on the internet.
And then there's the three of them together.  And perhaps all I need to say is that sometimes it looks like this:
And sometimes a bit more like this:
The pictures were taken on Wednesday evening, it was such a beautiful day we sprung Kitty from nursery a little earlier than usual and as H had a post-work appointment with the golf course the four of us packed a picnic and headed up to our favourite spot for supper.  It was glorious.  We had the windmill almost entirely to ourselves and we sat and ate looking out over field after field of sunshine yellow and the deepest of peerless blue skies.  The girls ran and jumped, Pip rolled over and over and tried to eat the grass and as the clock ticked nearer to bedtime and the sun started to sink we strolled down the hill and headed home for PJs, a bedtime story and the sort of sleep that comes from feeling the sun on your skin and fresh air in your lungs.
It was the perfect way to end a lovely day, and definitely the moment to capture two little sisters, and their brother too, in May: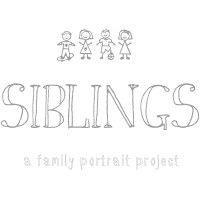 This month I'm sending you on to Amber.  She takes the most gorgeous photos of the most adorable twin baby boys you've ever seen, seems to keep lovely natural light in her pocket just ready for pictures, and as we seem to have very similar tastes when it comes to dressing baby boys if she keeps posting baby fashion posts my credit card may never recover!  I can't wait to see her pictures.
And now it's over to you – what have your siblings been up to this month?