Whoever invented the saucer swing, I think they are a genius. Two of our favourite parks around here have them and they have become complete family favourites. It's no secret that our girls love to swing but there comes a point when you're pushing two swings and carrying Pip in the sling at the same time that's it's time for a change. Kitty and Elma will snuggle on together as I push them higher and higher but we've found there's also room for Mummy too. With one little girl either side of me I can get us moving and then we all lie back and watch the clouds drift past and chatter and make faces at Pip sat in his buggy below. You never get too old to love that feeling of rocking back and forth and it's even better with the girls there to share it with. And then when the girls have had enough and run off to play on the see-saw, I can tuck tiny Pip in beside me. It's the only bit of play equipment he's big enough and he absolutely adores it, he lies there giggling away, kicking his legs and generally giving off the air of a boy having the time of his life.
But best of all, I get to put all three of them in together.
The girls get very excited about the prospect of swinging with Pip and Kitty is so very good at holding him gently and making sure he can't slide around too much or get squished in the loving embrace of his sisters, although after a bit their patience for going at a very gentle Pip-speed wears rather thin and they start asking for me to take him back so I can push them hard enough that they feel like they're flying. But it's a little taste of the future, it's really not going to be too long before all three of them want to go as high as the sky.
And it rather sums up how the three of them relate at the moment; Kitty and Elma absolutely adore Pip but it comes in little bursts of intense affection; they'll hug him, kiss him, show him his toys, sing him songs, be about three inches away from his face at all times, and then the interest wanes as they remember that actually, yes, rolling over is the height of his achievements and he can't really do much just yet. It will come girls, it will come, and then he'll be sneaking cuddles with all your teddies and you'll be longing for the days when he just lay on the playmat and waved at the mobile.
And as for my little set of sisters, well they continue to be each other's best friends and worst enemies, usually at exactly the same time. As Elma gets bigger she's getting more, shall we say assertive, and a squeal is just as likely to mean that she's gone for Kitty with the drum as that Kitty's picked her up and won't put her down. And thirty seconds later after yet another "we do not hit people, especially with drums"/"your sister is not a toy" discussion they'll be lying on the floor in the biggest cuddle imaginable and running off together to play some new sort of mischief.
My father, watching all of this unfold via FaceTime appears to be experiencing a rather entertaining sense of deja vu which is in turn rather reassuring that one day peace will reign.
But for now my little trio are noisy, wholehearted, adventurous, loving, and sometimes the biggest little monkeys in the whole wide world. And I wouldn't have it any other way.
Two little sisters, and their brother too, in March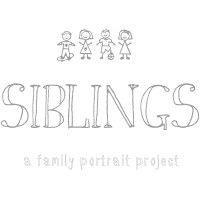 This month I'm sending you on to a lady who needs no introduction as the Mama of the Siblings Project. I'm so glad that
Lucy
decided to turn a fleeting idea into a proper project, I love that I've got pictures that chart the relationship of my girls and of all three of them right from the point that two became three. Lucy's pictures are always stunning, she seems to have so many beautiful places around her for photo shoots too! And now it's time for you to join us, it's so lovely seeing all of these children grow up before our very eyes!