There comes a time in every mother's life, a moment when you know you must seize the day, make hay when the sun shines, strike while the iron's hot, grapes the nettle, and any other get a move on and stop procrastinating metaphors you can think of. I speak of course of matching outfits. More specifically, of that moment when you realise that if you don't dress them all to match now while they're still little you may never get the chance again.
I'm quite fond of dressing the girls if not to match, at least similarly, what Katie calls 'matching but not matching' and they've got their fair share of properly matching dresses too (poor Elma will be completely sick of the dress by the time she's worn hers and grown into Kitty's) but with Pip in the mix too and being still quite a tiny little boy at that it gets a bit more complicated. So when I happened to spot some very gorgeous pyjamas, and realised that they come in Pip, Elma and Kitty sizes it really had to be done.
Here, for posterity, is my trio, in full on matching outfits:
I know I quite often say how alike they look but with them all dressed the same I think you can really see the similarities in Kitty and Elma. It's there in their looks, though their colouring is slightly different, but even more so in their expressions and gestures though how much of that is nature and how much due to a degree of sisterly copying is hard to tell. They're happily still at the age where they loved that they were dressed the same and they were bouncing off the walls when they realised they were the same as Pip too. He was mostly interested in trying to eat his toes now that they'd been freed from the confines of his babygro and wondering what on earth Mummy was up to again.
In the last month we've gradually moved Elma into Kitty's room to free up the nursery for Pip when he moves out of our room in a couple of months. We started just by putting up the toddler bed and letting the girls play on it but pretty soon Elma wanted her 'big girl bed' and so she moved, followed by her clothes and now even the letters from her door have gone to 'this big girls' room' and it seems to have marked a watershed, that shift from babyhood to little girl. And in making the move I think those big girls have got even closer. They still argue over whose turn it is, I'll still be called back from the washing up by a high pitched squeal of protest from one or other, but they're also getting better and better at playing make believe together, at coming up with their own games, and I'll often find them upstairs sat on Kitty's bed doing their sticker books or emptying out one box of little treasures or other.
They're the very best of friends. Most of the time.
And as for their little brother, he's their baby, still utterly adored and cuddled at every opportunity. And now he's got a bit sturdier and bigger than the tiny little boy that Kitty cuddled so carefully last September I'm happier at handing him over for cuddles and slightly more relaxed when I find that while I've nipped into the bathroom for a quick shower the girls have climbed into the cot to entertain their boy (although I'd really rather they didn't do it again).
We're still very much in the phase of 'the girls and Pip' and that's exactly as it should be right now, but I hope as the months go on and Pip gets a bit bigger and bit more mobile I'll be able to see the start of a similar friendship. Fingers crossed.
But for now I have my little three, for cuddles and whispered stories and always smiles.
My little trio of Siblings: a sister, a sister and their brother – in February:
And just because, I have a little outtake too – just in case you ever thought my children were perfect and always cheerful and excited by taking photos! – Kitty when we first asked her if we could take a photo!!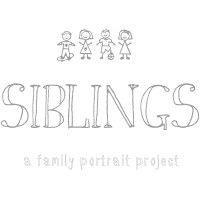 Each month we hosts send you on to one of our co-hosts and this month I'm sending you on to Kelle. She takes the most beautiful photos of her two little ones and is always discovering really gorgeous children's clothes and bits and bobs so her blog is one big temptation for me. If you follow the links you'll go round in a nice big circle and be able to visit all of us, and I hope you get the chance to look at some of the other posts linked up below; it was lovely to see so many families joining in again last month.