Hello! Welcome to the first Siblings for 2015!
Last year my photos told the story to two little girls figuring out how to be sisters to each other and then sisters to a baby brother when a then very tiny Pip came into the world in August. Well I might not be planning any changes to the line up this time around but I think 2015 might have a fair amount of adventure and upheaval of its own.  This is the year when Kitty will start school, when she might start to pull ahead and away from her baby siblings, or might be glad to come back to the security of her siblings after days out on her own.  It's the year when Pip might possibly start walking but will definitely start crawling (and I'll put money on it being in the opposite direction to the camera), and the year when Elma will undoubtedly do what my little miss independent does best, and continue to forge her own path regardless of what's going on around her.
I know that by the end of the year I will have twelve very special sets of photos that mark those journeys, and the ones that I don't even know we're on yet. It's going to be exhausting, fantastic, a little emotional and I hope, filled with happiness.
And so we come to January, and the first in the set, and even these are a reminder of how quickly things are changing even on a month by month basis; Pip has grown so much even since the last photos, and there's no way I could have taken these pictures a couple of months ago (and not just because it was probably raining).
Kitty and Elma love that roundabout; they've sorted it out between themselves that if Elma stands right in the very centre and holds on, Kitty can fly around at top speed without sending her sister skedaddling across the rubber matting, and Elma loves the speed so much that she's for once happy enough to do as Kitty asks her.  They generally get on very well together and the playing together that started last summer is still as strong as ever.  But this cooperation has also been a little sign to me too that as they're getting bigger we might just be reaching the very fringes of the time that is to come, the time when they can work things out between themselves without all misdemeanours being reported to me with a high pitched squeal of "Nooooo!" and  "Mummmeeeee!"
And at the same time they both seem to have matured a little.  Just a smidge you understand, we are still talking about a four year old and a two year old, but they understand now that if I'm going to let Kitty hold Pip and I ask that neither of them move while he's on the roundabout that really does mean stay still, and no one more than wriggled.
I love that they are in essence the photos of the moment when the girls introduced their brother to one of their favourite spots, a place I know he is going to come to love just as much over the next few months and years, and it rather sums up where they are all at at the moment; Kitty and Elma an intrepid duo, as thick as thieves in their outside adventures, and Pip, a little surprised to be out of the sling given he's usually (a) snuggled down with my very stretchy thick wool cardie wrapped around us both and (b) asleep, but happy to be with his beloved big sisters, and saving for them his very bestest giggles.
Right now he might not be able to keep up with them, or do anything more than giggle at them or kick them, but those girls of mine just adore their brother, and that they'd rather have him with them and accept a few limitations than not makes me so happy.  They still make a beeline for him in the morning (after Daddy naturally!), and will sing and dance in front of his chair to try to make him smile while I finish up their supper.  They're the moments that make having three children seem completely effortless and utterly wonderful.
My little trio of Siblings: a sister, a sister and their brother – in January: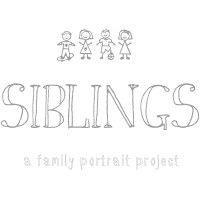 Each month we hosts send you on to one of our co-hosts and this month I'm sending you on to a lady who needs no introduction. Katie takes stunningly beautiful photographs, writes about her lovely family with honesty and love, and has the very good fortune to be on holiday in the Caribbean right now (I'm trying not to be jealous about that last one!). If you follow the links you'll go round in a nice big circle and be able to visit all of us, and I hope you get the chance to look at some of the other posts linked up below; so many people embraced this project last year it both blew me away and made perfect sense and I'm looking forward to seeing lots of familiar faces.


<!– end LinkyTools script —>