It's December.  And that can only mean that we've come full circle.  Looking back at my post this time last year I wondered what 2014 would bring my two little girls.  And now we have the answer, one that even I didn't know about at the time, in the form of an adorable and completely adored little brother; and a whole lot more!
And month on month I've been able to see the changes in my little siblings, right from the rather obvious difference between August and September to the more subtle shifts along the way.
At the start of the year, Elma wasn't walking yet, she'd only just started growing teeth and her vocabulary was still in the early stages. Now she's running everywhere, climbing everything, chattering ten to the dozen and that lovely round babyishness in her cheeks is gone as she starts on yet another growth spurt; she's currently wearing the coat that was still Kitty's in my February photo and I'm sure that the clothes that I'm pulling out for Elma I only took out of Kitty's drawer last spring.
And Kitty herself has changed more than I thought. I knew she'd grown taller because we're a couple of clothes sizes and several shoe sizes up on January, but it's more than mere height, she's left behind any hint of even toddler now and is every inch the four year old, plus a few inches she seems to have borrowed from a 6 or 7 year old.
And that of course is the reason why we take these photos, and I suspect why so many of you also found it an irresistible idea and came to join in with us along the way. But it's not just about the chance to look back and watch growth spurts under way, and there's so much more to the story than the physical changes.
As the months pass I see two little girls, who lived affectionately alongside each other but on the very different levels of a crawling baby and a running three year old, become closer as sisters as Elma started to catch up to Kitty, and then develop into the firmest of friends, albeit the sort that all too often have rows over the possession of the Etch-a-Sketch.
And if I love the photos that show my girls together, how much more special are the pictures from the point at which a duo became a trio.
Once Elma became mobile it was very easy to capture the moments of sisterliness between our girls; they were always together and we're frequently exploring so it just became a matter of remembering to pack the camera.  But that all changed in August and suddenly getting a picture of the three of them became a matter of planning and organising and at least in the very beginning of extra adult hands around to catch just in case!
I know that without Siblings I would still have plenty of pictures of Kitty and Elma together, but whether I would take so much trouble to take pictures of all three is less certain.  And that makes me profoundly grateful that I do have these shots.
Because these days will not come again, because they are all changing before my very eyes, and because what I have here is the record of the very beginning, the start of my three children becoming a trio.  They aren't there yet, it's still really the girls and Pip, and that makes sense; for all his length Pip is so very new, and however much Kitty and Elma love him, kiss him, bring him toys (Elma) and try to mother him (Kitty – she's very sweet wiping up his chin if he's drooled a little milk), he can't really do very much right now other than smile adoringly back at them.
This month's photos are as near to candid as I think I'm going to get at this stage; a snuggly corner of the sofa on a bright winter day, Kitty now so much more confident about holding her brother than the first time I placed my tiny fragile newborn into her outstretched arms.
We'd had a quiet morning just pottering around at home and we were about to head into town to do a little shopping and for a picnic in the park.  Elma's found her shoes and even more impressively managed to put them on the right feet and Kitty has both found and abandoned her boots.  They all three just seem relaxed and happy curled up together.
Two little sisters and a baby brother too – in December:
The final picture for my record of my little siblings, in 2014: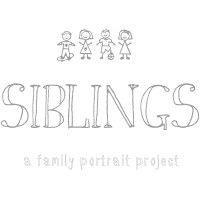 This month I'm sending you to Hayley.  Her pictures are always gorgeous and as co-instigator of the #happychristmasproject over on Instagram she's been inspiring me to look for all sorts of Christmassy magic around me.  I can't wait to see her pictures this month.


<!– end LinkyTools script —>