I just started writing this post titled "Siblings in October". Oops. I'm not sure my brain has quite caught up with the change in months yet but it is definitely November outside; there are more leaves on the ground than clinging desperately to the trees, the overhead light has become more of a necessity than a source of entertainment to two small girls who think it's hilarious to turn it off and on again, and the sun is starting to feel like a distant memory after days of watching raindrops plop and slither slowly down our windows.
We're into the days of cosyness, of soup or hot pasta for lunch, of wanting to hide away from the damp and rain and yet loving being the crazy people out riding scooters in the pouring rain, or shouting nursery rhymes into the wind that crests over the hill and roars across the playing fields.
They are the days when watching this little trio fills me bubbling up with happiness even as the days are interspersed with sisterly fallings out, sniffly noses, heated discussions of who's going to be Anna and who Elsa, and those nights when the suggestion that the children have coordinated themselves to ensure that you get as little sleep as possible becomes set in your mind as a certainty.
They are days of great ordinariness, and I'm loving every minute of them; watching Pip become more and more alert and interested in his surroundings and returning the adoring smiles of his sisters, and watching those sisters as they lurch from intense frustration with each other to peals of laughter at some hidden joke and the sheer joy that comes from comradely mischief.
And as is hugely apparent they are also the days in which I have not yet mastered photographing three people of varying shapes and sizes.  They won't all sit in a row, it's too wet and chilly outside for Pip to be exposed to any more of it than the tiny peek of his face just visible behind the edge of the sling, and inside there just isn't enough daylight to let me get a fast enough shutter and the depth of field I need to get them all in focus without an insanely high ISO.
So they aren't.
Well not all at once anyway.
And in some ways that seems rather apt.  It's one of the first things you learn as a parent to two children, that there will be times where once gets all your focus and the other one just has to wait, and it doesn't become any less true with three; the difference is simply that you've already made your peace with it and developed a few coping strategies along the way.
But focus or no focus I think they do show the very strong bond between my girls, and the bond that is starting to build between them and Pip, and they hold memories of a morning spent rolling on my bed, the affection they have for each other, and the frequent breaks required by two young ladies so that they could lie back and kick their legs as hard as possible before trying to stay still just for a millisecond or two.
Two little sisters and a brother too – in November: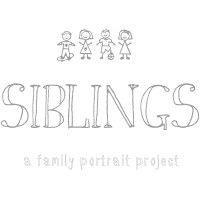 This month I'm sending you on to Keri-Anne who has such a gorgeously dreamy style of photography it's no wonder that I spend ages just drinking in her pictures.  I can't wait to see what she has this month – and I bet they're all in focus too!


<!– end LinkyTools script —>