Two weeks or so after we first announced the Siblings photo project to the world at large I sat staring at what was undeniably a very positive pregnancy test.
And for the next few months, as we shared our pictures of our children, our little sibling groups of all shapes and sizes, I was keeping a secret. A secret from all but our very nearest of nearest and dearest. It was March before we shared our news that our family was growing in more ways than one, and it's been both a blink of an eye and an incredibly long time coming to get to September, the month when for the first time it's not a picture of two little sisters, but two big sisters, and their brother.
Would it sound very strange if I said that Pip's arrival has completely changed the family dynamic, but changed it in a way that feels utterly and completely 'right'?
He's only been with us two weeks and yet it feels as if there have always been the three of them; Kitty, Elma and Pip. This is how our family was always meant to be; we were just waiting for him to arrive.
I'm not trying to sugar coat it truly, and I'll freely admit that there are challenges to going from two to three, many of which we didn't see coming, and there are moments when sleep deprivation and frustration get the upper hand, but that's a parenting conundrum, not part of the sibling relationship.
And these little big sisters of mine truly love their brother (at least so far). Kitty will oh so gently stroke his head as he nurses or snoozes, or put her finger out for Pip to grab hold of, Elma runs up to him with big smiles, even if she hasn't always quite mastered the meaning of the word 'gentle', and the spectators' gallery still lines up every morning to peek at their boy.
Kit was just so proud to be allowed to hold Pip for the photos, and Elma was just as certain that she was really going to be the one doing the holding.
These photos, my little trio together, mark the start of a new era; an era of sitting still forphotos for starters.
I've no idea what this trio is going to look like in the months and years to come, how they'll get on or how we and they will balance out their wants and needs, but for this, their first month together, it feels pretty special.
Two little sisters, and their brother, in September.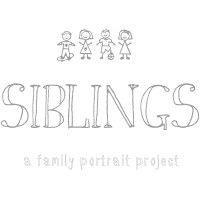 This months I'm sending you on to Lauren who writes the fabulously named Real Housewife of Suffolk County. Lauren writes with such beautiful frankness about her gorgeous boys and the hills and valleys of daily life, and takes gorgeous photos too so it's no surprise that her corner of the Internet is one of my favourite places to visit. And she has just the prettiest traditional rig boat that you ever did see – I'm trying very hard not to be envious!