Well as always life has got in the way of blogging and knitting (and laundry and cooking and cleaning and sleeping and ….) Anyway, I meant to tell you all about last weekend a little sooner than this but hey ho, the laundry is done, the washing up is drying and the work I brought home over the weekend is finished and e-mailed back to my office (which will no doubt block the e-mail and call me all sorts of problems tomorrow) so what is there to do but catch up with the bloggy world and tell you about a little bit of something special.
Those of you who know me in real life or who have read the blog for a while will realise that H and I have just passed our first wedding anniversary. Given that our honeymoon didn't go quite to plan (to say the least), we needed to make this one special and as H has been busy with his new job I got to choose where we went and to surprise him.
All he knew was that he had to get up at 4.30 on Saturday morning and bring his passport. When we got to the airport I handed him his card which had our e-tickets in and he knew we were going to the place which looks like this:
(Hint: it isn't in England)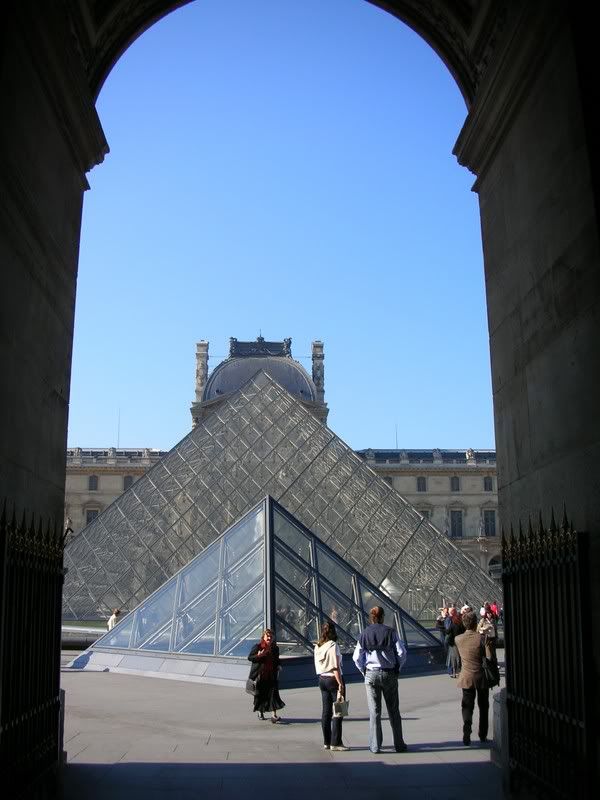 One of the biggest roads looks like this:
And something quite important looks like this:

Still can't guess? Well I suppose I could give you a better clue …. – does this help?: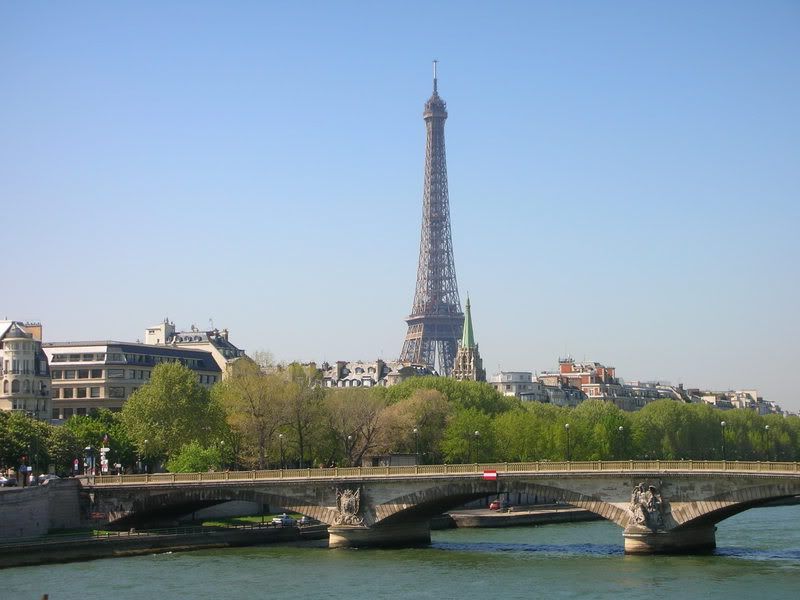 I love Paris – I'd never been before and H had only been on a school trip many years ago.
We did all the touristy things including climbing the Eiffel tower (yes we took the stairs to the first two stories with me desperately clutching the banister and trying to convince myself that really it was just a staircase and no I wasn't horribly high up on the equivalent of a fire escape – interesting thought – if they have a fire alarm in one of the restaurants do they all have to come down the stairs?!).
The pictures above are a view from the Right bank of the Seine looking towards the island with Notre Dame on it, the pyramid at the Louvre, the Champs Elysees and the inside of the Arc de Triumphe
I also started a new pair of socks for H as his special anniversary socks. I cast on in the train from the airport and the first few inches of the cuff had a few rows added to them if we stopped in a garden or on the river bank to rest our feet and escape from the heat for a bit – yes my friends it was hot with a H – gorgeous weather.
The sock attracted interested looks from a pigeon in the Jardin des Tuilleries – AND the sock went to the top of the Eiffel Tower look –
See – sock and top of the Tower!!
OK the sock did go to the top but I was a bit busy holding onto the walls to either take it out of the bag or knit it so this will have to do!
In our travels we also came across a couple of wonderful little shops both of which would probably be properly termed a haberdashers. The first, Entree des Fournisseurs had a wonderful arrays of ribbons and embroidered patches and we gathered up enough French to request "une petite papillion comme ca dans rose et vert, si vous plait."
This is what that gets you:
I love this little butterfly quite irrationally – it's about 2 inches wide and an inch high and I think I may attach it to one end of my tired roses scarf when that it finished as it's the perfect colour match and I think it might be pretty to have a lace scarf that a butterfly has landed on. If not I'll just keep it as it makes me smile!
The second shop we found was called Le Comptoir and was much more of a knitting shop. H on holiday is a serious enabler so it is not perhaps surprising that some of the shop came home with us – it's a souvenir you know!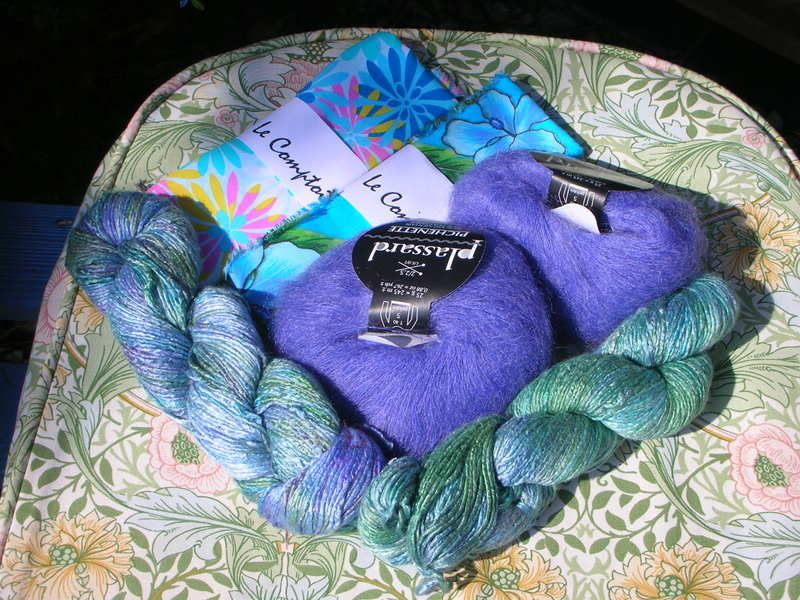 The fabric is two bright floral fat quarters, the blue/purple is more lavender in true colour and is a version of Kid Silk Haze without the silk – very light and soft and fluffy and will make a fabulous stole and the blue/green – that's hand dyed aran weight silk and it is irrepresibly beautiful. I think it will be a fairly simple scarf to show off the colours – at present I'm thinking Knitty's Argosy
To knit it, perhaps I will use these: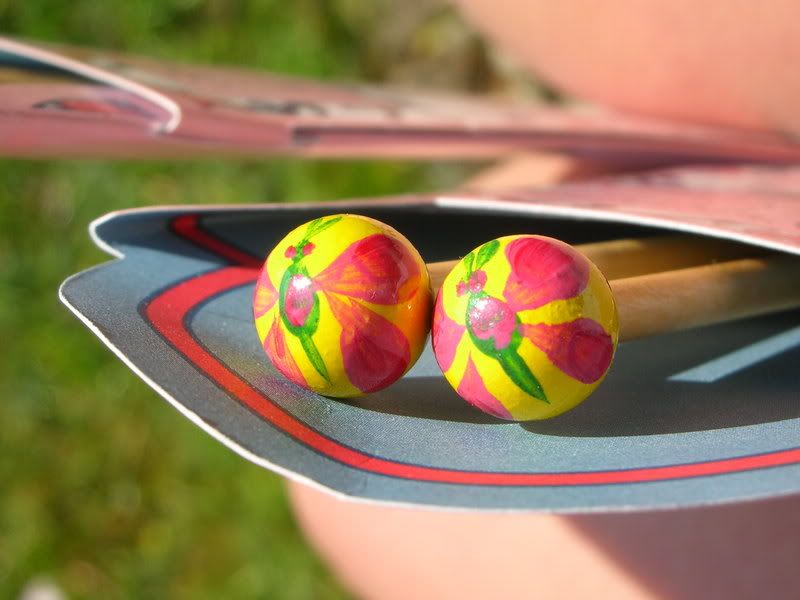 Or maybe these

Total indulgence – Peace Fleece needles with ladybirds and butterflies! The sizes are 6 and 7mm which I don't have so there is some practical merit as well as just looking at them and exclaiming over their prettiness!
All in all we had a wonderful three days, we were treated wonderfully by the hotel staff and I think it is somewhere we will go back to in the not too distant future.